| | |
| --- | --- |
| Beijing Tour Guide | |

Book Beijing Hotels  |  Beijing Tour & Day Trips, Travel Packages
Beijing Information
Telephone code: +86-10
Population: 13.8 million
Area:16,800sq km
Beijing is a world-famous city for its long history and splendid culture. According to archaeological discoveries, more than seven hundred thousand years ago, there were primitive people (Beijing Ren) in this area. The written records show that in 350 BC, it was occupied and made the capital of Ji. Later in its history it got other names such as Zhuojun during the Sui Dynasty (581-618), Youzhou during the Tang Dynasty (618-907), Nanjing and Yanjing during the Five Dynasties and the Liao Dynasty (907-1125), Zhongdu during the Jin Period (1115-1234), Dadu during the Yuan Dynasty (1271-1368), Beiping and Beijing during the Ming Dynasty (1368-1644), Beijing during the Qing Dynasty (1644-1911), Beiping again under the control of Nationalist Party (1912-1949) and it finally was named Beijing after the People's Republic of China was founded in 1949.
In the year 1272, Beijing became the Capital of a unified country for the first time in the Yuan Dynasty (1206-1368), which was written in the Travels of Marco Polo.
In fact, Beijing has been the Capital of Jin, Yuan, Ming, Qing and Republic of China and today it still is the center of national politics, economics, culture, transportation and tourism.
Now Beijing is undergoing big changes and heading for modernization as ancient civilization meets with modern achievements of the whole world, creating youthful vigor and energy.

---Main Attraction
More Beijing Sightseeings...

---Beijing History

Some half a million years ago, Peking man lived in Zhoukoudian, in the southwestern suburbs of Beijing. The climate of that time was warmer and more humid than it is today. Forests and lakes in the area supported large numbers of living creatures. The fossil remains of Peking man, his stone tools and evidence of use of fire, as well as later tools of 18,000 years ago, bone needles and article of adornment from the age of Upper Cave Man are the earliest cultural relics on record in China today.
Some four to five thousand years ago, settlements to the southwest of Beijing were thriving on basic agriculture and animal husbandry. Story has it that the legendary Yellow Emperor (Huang Di) battled against the tribal leader Chiyou in the "wilderness of the prefecture of Zhuo."Zhuolu, a town west of present-day Beijing, is perhaps the site of the first metropolis in the area. Yellow Emperor's successor, Emperor Yao, was said to have established a legendary capital Youdu (City of Quietude) that was where the city of Ji was actually built.
During the Warring States Period (475-221BC), the Marquis of Yan annexed the territory of the Marquis of Ji, making the city of Ji his new capital. The approximate location was north of Guang?anmen Gate in present–day Beijing near the WhiteCloudTemple (Baiyunguan). Early in the third century BC, the first Emperor of Qin (Qin Shi Huang) set about conquering six states and unifying China. The city of Ji was named administrative center of Guangyang Commandery, one of 36 prefectures in China's first feudal empire. For 10 centuries, through to the end of the Tang Dynasty (618-907), Ji remained a strategic trading and military center and the object of frequent power struggles.
wo emperors during that period -- Emperor Yang of the Sui Dynasty (581-618) and Emperor Taizong of the Tang Dynasty -- left their mark on the city. Emperor Yang amassed troops and supplies at Ji for expeditions against Korea. Emperor Taizong also used the city for military training. He built the Temple for Compassion for the Loyal (Minzhongsi), which is dedicated to troops who died in battle. This temple was the precursor of the Temple of the Origin of the Dharma (Fayuansi) located outside the old walls of the city.
At the beginning of the Tang Dynasty, Ji was little different from any other large feudal cities. Several centuries later, however, when the Tang was nearing a state of collapse, the Qidans (Khitans) came from the upper reaches of the LiaoheRiver and moved south to occupy Ji and make it their second capital. They called the city Nanjing (Southern Capital) or Yanjing. Emperor Taizong of the Liao Dynasty (916-1125) carried out reconstruction projects and built palaces, which were used as strongholds from which the Qidans set out to conquer the central plains of China.
---Tourism
Beijing had been the Capital of four Dynasties before the founding of PRC. Its Great Wall, splendid palaces, beautiful gardens, old temples, a considerable variety of exhibitions and museums and former residences of celebrities show its glorious history and civilization.
Today more than two hundred and sixty places of interest have been opened to the public with new ones under building and planning. Besides these places of interest, the natural scenery of Beijing's suburbs also attracts great many visitors with its charms, hills, lakes, hot springs, karst caves and so forth.
In 1986 sixteen famous scenic spots of Beijing were picked from forty spots and were named "the Sixteen Sights of Beijing". They are Tiananmen Square, Forbidden City, Badaling Great Wall, Beihai Park, Summer Palace, Temple of Heaven, Fragrant Hill, Shidu Scenic Spot, Relics of Primitive at Zhoukoudian, Longqing Gorge, Big Bell Temple, White Dragon Pond, Ming Tombs, Lugou Bridge, Mutianyu Great Wall and Grand View Garden.
The Capital Airport, the largest and most advanced one in China, has more than twenty international airlines connecting countries in Asia, Africa, America, Europe and Oceania. It has over thirty airlines connecting about eighty big cities within the country. Meanwhile, it is the center of highway-net and communication.
There are more than two hundred star hotels in the city supplying more than fifty two thousand rooms. There are about three hundred travel agencies around here.
Beijing is not only a world-famous city for its tourism but also a good medium for you to know more about China, a time-honored country, and the Chinese, a diligent and wise nation.

---Beijing Weather Forecast 
---Beijing Climate
Beijing lies in the continental monsoon region in the warm temperature zone and its climate represents as hot and rainy in summer and cold and dry in winter.
The four seasons in Beijing are distinct. It is dry, windy and sandy in spring and hot and rainy in summer. Autumn is the best season in a year when the sky is blue; the air is crisp, mild and humid. However, winter is cold and dry with little snow. The average temperature throughout a year is 11.7℃. The average temperatures of the hottest month, July and the coldest month January range from 27℃ and -4.6℃. The shorter seasons, spring (usually from February to April) and autumn (usually from August to October) are better seasons for visiting Beijing when it is sunny and warm with few tourists crowding in the attractions.
If you come to Beijing in spring, you could wear a thin sweater, a pair of sweat pants, and a coat. But sometimes it may be a good idea to bring a warm cap because it is windy and sandy during this period though it is not cold. In summer the temperature could reach as high as 30C. When you go out, you could take an umbrella along with you if it doesn't bother you much, because a downpour may come unexpectedly at evenings from July to August. Autumn is the most beautiful season, but after October you may feel the constant changes of the weather and you may encounter light rains at any moment. So it is better to bring some heavy clothes with you. In winter, you need a heavy woolen sweater, and a long wind coat or a down jacket. Generally there will be two or three heavy snowfalls each winter, so it is always wise for you to have anti-skidding shoes with you when you come. Lastly, don't wear light-color clothes in winter.
Bilingual weather information can be obtained if you dial 121 in Beijing.
---Shopping
Shopping in Beijing is becoming more convenient by the day. There are many superstores, mega-malls and markets where you can buy just about anything you need. Recently, the first IKEA just opened in the north of the city. There is a huge PrICE Smart which is a discount wholesale foodstuffs market for cardholders only. The Silk Market at Xiushui Jie and the free market at Sanlitun are also favorites among tourists, expats and locals alike.

Wangfujing
  Wangfujing intersects with East Chang'an Avenue. It has a history of more than 100 years. The street, which is less than one kilometer long, is lined with shops. The best-known shop is the Beijing Department Store. To the north of the department Store is the One World Department Store, hosting a collection of Chinese and foreign name brands and fine quality products.La Fayette presents French features, namely fashions and name brands. The newly-opened Sun Dong'an Market is the largest supermarket in Beijing. It covers a business floor space of 100,000 aquare meters and sells more than 200,000 kinds of goods. The Oriental Plaza, which is considered another miracle in Chinese architectural history, is scheduled for comp;etion soon. It stands just by the south entrance of Wangfujing.
Qianmen
  Qianmen street was a commercial center of Beijing more than 500 years ago. Its old shops and small stalls are preferred by Beijingers. Not far from Tian'anmen Square is Xidan, which is regarded as the second Wangfujing. The street is lined with shopping centers, food bazaars and garment markets.
Silver Street
  Silver street is in the Dongdan Beidajie. It is where all the franchised foreign name-brand shops are concentrated.
  Jianguomenwai Dajie is famous for its colorful metropolitan scenes. The street is lined with star-rated hotels, office buildings, fancy restaurants, beauty salons and shopping centers. The well-known shopping centers are Friendship Store, SCITECH Plaza, Guiyou Department store and the China World Shopping Mall.
The Silk Market
  Despite its name, the Silk Market has much more than just silk. The silk products here are cheap, and therefore popular, but there are also a lot of cashmere garments, down jackets, leather goods, shoes, hats, watches and some handicrafts and trinkets.  One of the main things about the Silk Market is the fact that none of the prices are set. This can work for or against you. It all depends on your bargaining skills. If you on your bargaining skills. If you are a proficient (i.e.stubborn) bargainer, then you can get great deals on all kinds of clothing, but if you are soft -hearted and don't like confrontation, then you may get taken for a ride. It is ofen helpful to bring along a Chinese friend who can help you bargain. The way to do it is, look around at all of the stuff and point out to your friend which item you like, without letting the seller know. Then let the Chinese person go back and bargain for you. Of cours not all Chinese people are good bargainers, but at least if they go, the starting price is the same, but the lowest the seller will go will be lower for the Chinese person.
  If you are a tall person (6' and up ) the Silk Market is the best place for you to buy clothes and shoes. Usually the shopping plazas and super-stores do not have really large sizes. If you are size 12 shoe size or larger, then the only place to really go is to the Silk Market.
  You will notice quite a few famous name-brand items there, and you may wonder how a Timberland down jacket can be sold for US$20 or $30. The answer is not clear. Sometimes the goods are counterfeit, but more often the merchant has a relative in a clothing factory who can get excess products or slightly imperfect products for super cheap prices. At least that is one theory. No matter what the case may be, it is a place for bargain shopping.
  The silk and cashmere goods are also much cheaper than they would be in other stores or in other countries. These items make great gifts for friends back home, especially the silk Mickey Mouse boxer shorts which you can't get away from. Most of the sellers speak a little English, at least they know how to say "you say how much!", "I give you good price." And of course numbers are their specialty. There is also a large selection of fake Rolex, Omega and other wristwatches, rivaled only by the street hawkers of New York City.
  Note :it is very crowded in the alleyway, and people will be constantly brushing up against you. It is a good idea to keep a close eye on your bag or wallet while you are in there. If you are wearing a backpack, put it on backwards so the pack is in front of you. If you don't, you may find that there is a slit in the bottom of your pack and all the good stuff is gone!
Sanlitun Market
  Besides being famous for its Bar street, Sanlitun is also well-known for its free market. During the daytime, the side of the street across from all of the bars is lined with stalls selling mostly clothing. The good thing about this market as compared to department stores is that you can bargain for prices, and they have larger sizes.
Tourism-administration-designated-stores
  Century-old stores, like those in Beijing's hutongs(alleys) and siheyuan (courtyards), have become part of the city's history. Their fame and location in some of the most bustling downtown areas keep them busy but, at the same time, the stores are small and offer a relatively poor shopping environment. And competition is rising from the rubble of modern construction. In recent years, most traditional stores have made changes to keep up with their rivals, including renovating their rivals, including renovating their facades and interior decorations, and upagrading services. Shopping in some of the best of the stores can be a unique Chinese experience.
---Food
Northern cuisine specialties include Beijing duck, Mongolian hotpot, Muslim barbecue and imperial dishes, but the rest of China gets a look-in too, from the snortingly hot dishes of Sichuan to the ethnic Dai dishes of clement Yunnan and beyond.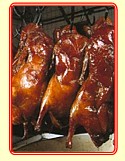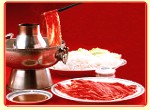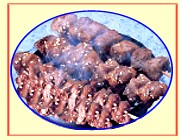 Snacks and Cheap Eats
Off the main roads and in Beijing's alleyways is a world teeming with food stalls and small eateries. Breakfast can be easily catered for with a youtiao (deep-fried dough stick) and a bowl of porridge (zhou). Other snacks include the pancake-like and filling jianbing, and the heavy meat filled roubing, cooked bread filled with finely chopped pork. Dabing can be found everywhere—a chunk of round, unleavened bread sprinkled with sesame seeds—and of course there's mantou (steamed bread). Also look out for roujiamo, a scrumptious open-your-mouth-wide bun filled with diced lamb, chili and garlic shoots.
Worth checking out is the food mall in the basement of the Oriental Plaza on Wangfujing. It's a squeaky-clean fast food emporium of Cantonese, Yunnan, Sichuan, teppanyaki, clay pot and porridge outlets plus loads of other types of Asian cuisine.
Markets
A sight in itself, the bustling Donghuamen Yeshi night market at the northern end of Wangfujing near Sundonggan Plaza is a veritable food zoo: lamb kebabs, beef and chicken skewers, corn on the cob, smelly tofu, cicadas grasshoppers, kidneys, quail's eggs, squid, fruit, porridge, fried pancakes, chicken hearts, pita bread stuffed with meat, shrimps…and that's just the start. Foreigners go all slack jawed at the marvels on view. The market is open every day of the year apart from the Spring Festival; 5:30pm to 10:00pm.
Another fascinating spectacle is the Wangfujing Xiaochijie (Wangfujing Snack Street) south of the night market. Fronted by an ornate pailou, the quadrant is a bright and cheery corner of restaurants and stalls overhung with colorful flags and bursting with character and flavor.
Beijing Duck
The capital's most famous invention is now a production line of sorts. Your meal starts at one of the farms around Beijing, where the duck is fattened with grain and soybean paste. The duck carcass is lacquered with molasses, pumped with air, filled with boiling water, dried, and then roasted over a fruitwood fire. The result is delicious. The duck is served in stages. First comes boneless meat and crispy skin with a side dish of shallots, plum sauce and crepes, then duck soup made of bones and all the other parts of the duck except the quack..
Qianmen Quanjude Roast Duck Restaurant
Known as the "Old Duck", this is one of oldest restaurant in the capital, dating back to 1864. It remains one of the city's best places for roast duck..
Tel: 86 01—6511 2481
32 Qianmen Dajie
Tel: 86 01—6525 3310
9 Shuaifuyuan Hutong (nearby Wangfujing)
Tianwaitian is a reliable chain of Beijing Duck specialists dotted around town. The chefs do a fine job on the tasty morsels, served up alongside a thick wad of pancakes. Order beer by the pint; the meicai kou rou is a delicious dish of melt-in-mouth strips of fatty pork atop a small mound of meicai cabbage.
Dumplings
When in Beijing , do as Beijingers do: gobble down dumplings (jiaozi) by the bowl. Small steamed or boiled bite-size parcels of meat and vegetables in pastry envelopes, jiaozi arrive scalding at the table, to be doused in a small dish of soy sauce and vinegar and chomped.
Golden Cat Dumpling City
Open 24 hours. Come here whenever the unpredictable mood for dumplings grabs you, day or night. This courtyard eatery, near the east gate of Tuanjiehu Gongyuan, serves over 20 varieties of dumplings: from the standard pork-filled, through to pumpkin, aubergine, donkey-meat and beyond. Order dumplings by the liang (about ¥3.5 for five dumplings)
Beijing Hotel Map Guide You Find Right Hotel in Downtown
Beijing Tour & Day Trips, Great Wall Tours, Peking Travel Packages