| | |
| --- | --- |
| Drepung Monastery | |

Drepung Monastery, 7km west of lhasa, dates back to the early 15th century. In its time it was the largest of Tibet's monastic towns and, some maintain, the largest monastery in the world. Drepung, Sera and Ganden Monasteries functioned as the three 'pillars of the Tibetan state'.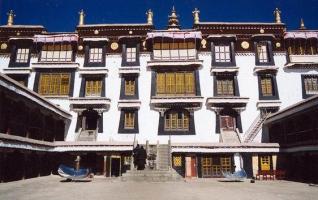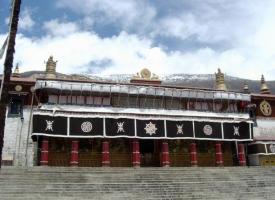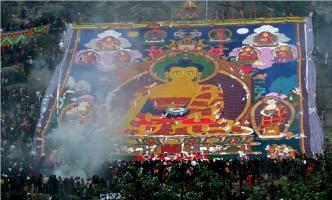 According to religious records, during the foundation of Drepung, Tsong Khapa discovered a magical white conch shell with counter clockwise swirls, believed to be buried by the Buddha Sakyamuni. Tsong Khapa bestowed this religious treasure to Drepung, and it can still be seen today in the "Great Sutra Chanting Hall".
Drepung had seven colleges and, at its height, housed over 10,000 monks. It has many splendid murals, elaborate statues and other rich treasures. A giant golden statue of Buddha "Jiangba Tongzhenma" sits near the precious conch shell.
Prior to 1959 the number of monks in residence here was around 7000. During the Cultural Revolution there was a concerted effort to smash the influence of the major monasteries and much of the monastic populatin was wiped out. Today around 700 monks reside here and in nearby Nechung Monastery, a 10-minute walk downhill.
Drepung was listed as a national cultural relic in 1982.
The best way to see the chapels is to follow a group of pilgrims. Try and catch the lunch break when the monks feast on tsampa and yak butter tea. Afternoons often see debating. There is an excellent 1.5 hour long Kora(pilgrim path) around the monastery.

Share This Page: