All tourists gather together under the national flag on the Tian'anmen Square before 8:00am. Please don't be late. We will start our tour at 8:00am sharp. There will be a brief introduction of Tian'anmen Square and Forbidden City.
Pass through the big gate with Chairman mao's Portrait, we will visit the Forbidden City. With VIP access, we will enter the Forbidden City directly, which is the largest ancient imperial palaces group in the world with 500 years history. This palace is an example of ancient Chinese architecture.
We will need your passport number to book the ticket in advance, so that we can enter the Forbidden City directly with no need for waiting on line or buying the ticket on the spot.
Visit the Forbidden City along the axis from south to north for about 3 hours, including the Hall of Treasure.
Visit scenic spots:
1. The hall and the courtyard of supreme harmony, 2. The meridian gate, 3. the hall of supreme harmony, 4. the hall of complete harmony, 5. the hall of preserving harmony, 6. the huge of stone carving, 7. the hall of union, 8. the palace of earthly tranquility, 9. the imperial garden, etc.
At about 11:30, the tour will be finished near the exit. You can walk around by yourself or exit the Forbidden City.
Tiananmen Square is one of the largest city squares in the world. Its name literally means "Gate of Heavenly Peace". The square witnessed the foundation of the People's Republic of China and several important events in Chinese history.
In the central heart of Beijing, the Forbidden City (Imperial Palace) remained the residence of the emperors for nearly five hundred years, from the 15th century to the early 20th century, and was the actual and symbolic seat of imperial power. Popularly known as the Forbidden City, it was built in the Ming Dynasty between the 4th and the 18th years of the Yongle period (1406 – 1420 AD). Many of the buildings of the Palace have been repaired and rebuilt, but their basic style and layout remain in their original state.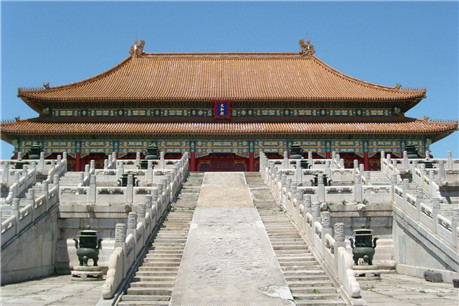 The Forbidden City
The Forbidden City -Get to know how emperors lived their lives.
When you visit the Forbidden City, you will see many big water tanks. Guess what they are used for?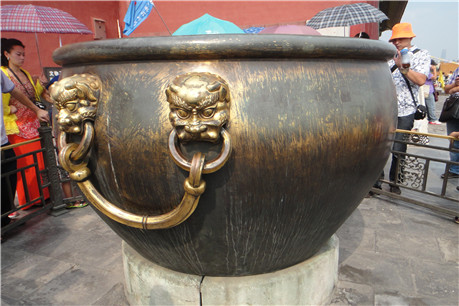 The big water tank in the Forbidden City