Tianmenshan Mountain,a famous mountain first recorded in the history of Zhangjiajie with an elevation of 1518.6 meters. Tianmenshan Mountain is uniquely sky-scraping and domineering. Tianmen cave the natural mountain-penetrating karst cave with the highest elevation in the world, hangs on the towering cliff. The Glass Walkway has attract a lot of tourists to challenge it.
Highlights
☆Tianmen Mountain Cable car
Take you all the way from the downtown to the top of the mountain watch the scenery on the cable car.
☆Guigu (Ghost Valley) Walkway built on the cliff.
One section of the walkway is Glass Walkway. It will totally take your breath away. You can see the cliff under your feet through the transparent glass walkway.
☆Tianmen Cave the cave is 131.5metershigh and 50 meters wide located on the cliff Follow the 999 steps.
☆Winding mountain road to the Tianmen Cave.
Tianmen Cave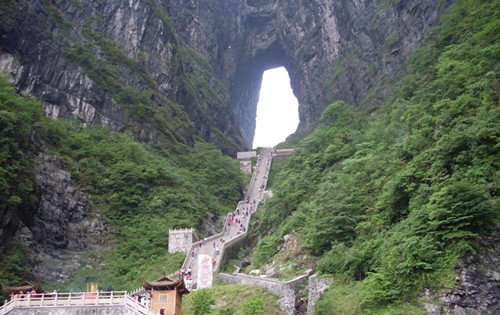 Ghost Valley Walkway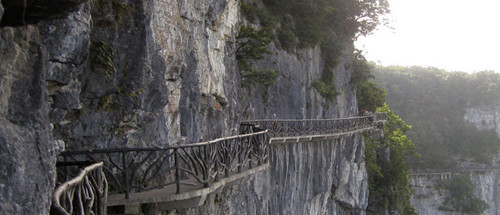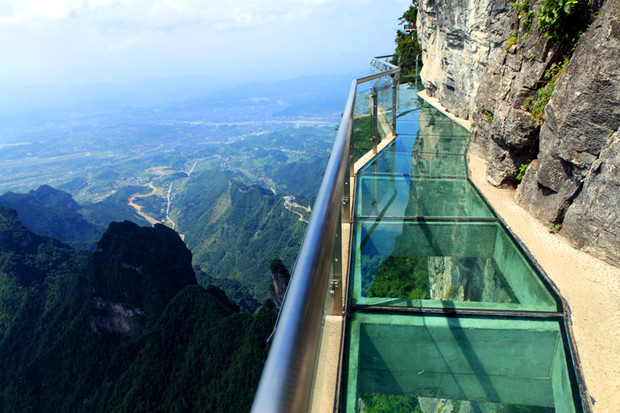 Information
Opening hours: March 1st-November 31st  8:00-16:30
December 1st- February 28th  8:00-16:00
Entrance Ticket:
CNY258 (including entrance ticket CNY75, Cable car round trip CNY150, tourist bus CNY33) + insurance CNY3
Cable car is the only way to get on the mountain
Visiting time: about 5h
How to get there
Take Bus No.4,5,6 and arrive at cable car station of Tianmen Mountain.
Cable car on the top of the mountain
CNY25 single trip
Going from Yunmengxianding(云梦仙顶) to Tianshanmen Temple(天山门寺) and back
Saving 1h single trip
It is not included in the entrance ticket.
Tourist bus
Cable car (middle)Station – Tianmendong Parking lot
Duration one trip 25-30min
Departure interval 10min
The tourist bus could also take the tourist to Tianmendong Scenic Site from the cable car (lower)station when the cable car stop running or there are too many people waiting for the cable car.