Soaring to 5500m, some 35km from Lijiang, is Yulong Xueshan, also known as Mt Satseto. In Lijiang City you can have a magnificent view of Jade Dragon Snow Mountain, with the main peak thrust into the clouds, the Old Man Peak standing out on the right and Black Snow Peak on its left. Its peak was climbed for the first time in 1963 by a research team from Beijing.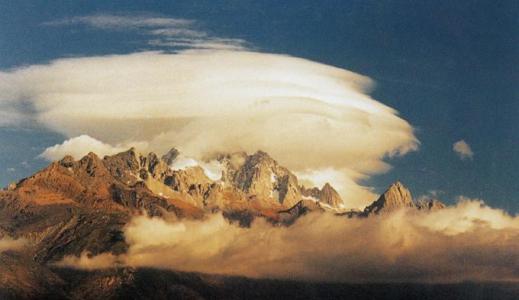 The 13 peaks of 18,360-foot Jade Dragon Snow Mountain, a treasure of wild plants and rare animals, are like a silver dragon lying in the clouds. Awesome and unconquered, they dominate the Lijiang Plain. Some have described Jade Dragon Snow Mountain as a radiant cornet crowning Lijiang's head. It is said that the Jade Dragon Snow Mountain arose from an ancient geosyncline 230 million years ago in an age when dinosaurs began to increase and formed its present shape sometime during the last 600,000 years, even as late as 12,000 years ago.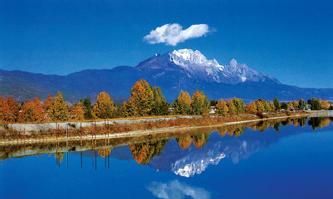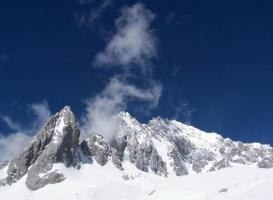 In the alpine meadows of the Jade Dragon Snow Mountain's lower slopes, lonely herders sing to their goats and set the wild echoes flying with the music of their reed pipes. It is a botanist's paradise, and a " kingdom of medicinal materials." Of the 13,000 kinds of plants in Yunnan, more than half of them can be found on Jade Dragon Snow Mountain as well as 400 types of trees in 20 primeval forest communities. On its slopes grow such trees as fir, dragon spruce, Chinese hemlock, Chinese larch, and fragrant camphor. There are more than 50 species of azalea, 60 kinds of primroses, eight species of poppies and 20 lilies, four species of peonies, five camellia, 50 species of rough gentian, and six kinds of flowering crabapple. The mountain is decorated with blooming flowers 10 months of the year. It is also home to a rare tea - Wild Snow Tea -which the Naxi insist is good for high blood pressure. The mountain is also considered a sanctuary for animals. It is home to 30 kinds of animals protected by the state, such as the wild ass, the Yunnan snub-nosed monkey, the lesser panda, etc. It even has green glittering snow. You can see it from Yunshanping ( Dragon Spruce Meadow )if you look westward. The only explanation that has emerged is that it may be caused by crystals or algae. And she has a glacier at the lowest altitude in China that is 7.5 miles wide and 21.7 miles long.
The Jade Dragon Snow Mountain is one of Yunnan's protected nature reserves, and it has attracted the attention of many scholars and travelers.
A chairlift has been built up the mountain. The first section takes you about halfway up, near Love-Suicide Hill, where you can rent horses to ride to a large meadow. The second chairlift, the highest in Asia, takes you to a stunning 4506m, where walkways lead to awesome glacier views. Watch out for the symptoms of altitude sickness here-Chinese entrepreneurs sell bags of oxygen to chain-smoking Chinese tourists for around 30 RMB.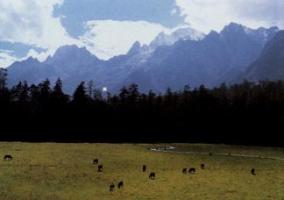 Several other scenic sreas have recently opened up. A ski lift has been built at Yunshanping, 36km from Lijiang. The lift takes you up to a plateau at 3300m, from where there are walking trails.
The scenic area of Yak Meadow(Maoniuping) is around 60 km from Lijiang, where yet another cable car takes tourists up to the meadows at 3500m. Snowflake Lake(Xuehua Hai) is nearby and there are plenty of hiking opportunities all around.