| | |
| --- | --- |
| Jinci Temple | |

Jinci Temple is located at the source of the Jin River by Xuanwang Hill, 25km southwest of Taiyuan. It was estimated that the temple was originally built between 1023 and 1032, but in the later years, the temple was repaired and restored repeatedly till Qing dynasty.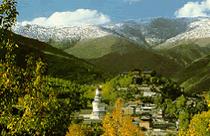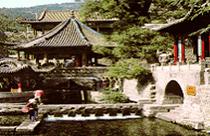 When you enter the temple, the first major structure come to you is the Mirror Terrace, a Ming building which served as an open-air theatre. To the west of the Mirror Terrace is the Zhibo's Canal, which cuts through the temple complex with a bridge named Huixian (Meet the Immortals) Bridge above it. The bridge provides an access to the Terrace for Iron Statues, which displays figures cast in 1097.
The Goddess Mother Hall is the oldest wooden building in the city as well as one of the most interesting spot in the temple complex. Inside are 42 Song dynasty clay figures of maidservants standing around a large seated statue of the sacred lady, said to be the mother of Prince Shuyu of the ancient Zhou dynasty.
Next to the Goddess Mother Hall is the Zhou Cypress, an unusual tree which has supposedly been growing at an angle of about 30 for the last 900 years.
The famous Zhenguan Baohan Pavilion lies in the north of the temple grounds, in which four stone steles inscribed with the handwriting of the Tang Emperor Tai Zong are contained. In the south of the temple grounds is the Sacred Relics Pagoda, a seven storey octagonal building constructed at the end of the 7th century.

Share This Page: