North of Dali, bordering Tibet, the town of Lijiang is set in a beautiful valley and makes another great spot to while away a few days or weeks. It's not until you get into the old down-a delightful maze of cobbled street, rickety old wooden buildings, gushing canals and the hurly-burly of market life-that you realise Lijiang is more than a boring urban sprawl in the middle of nowhere.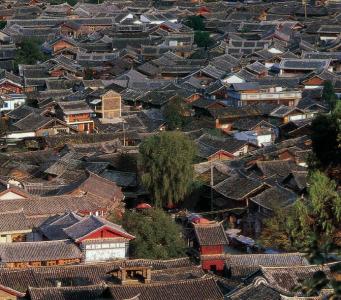 In 1996 an earthquake measuring over seven on the Richter scale rocked the Lijiang area, killing more than 300 people, and injuring 16,000. Damage was estimated at over half a billion US dollars. While much of newer Lijiang was levelled, the traditional Naxi architecture held up quite well. The Chinese government took note and sank millions of yuan into rebuilding most of Lijiang country with traditional Naxi architecture, replacing cement with cobblestone and wood. The United Nations was so impressed by the survival of Lijiang that it placed all of Lijiang county on its World Heritage Site list in 1999.
The town's reconstruction coupled with the unveiling of Lijiang's new airport has led to a huge increase in tourists. One indirect result has been a cluster of new tourist sights with fairly high admission fees. More worrying is the influx of Han Chinese entrepreneurs running tourist shops and restaurants for Han tourists, and souvenir sellers pushing out Naxi stalls. What used to be the preserve of hardy backpackers is now a major tourist destination.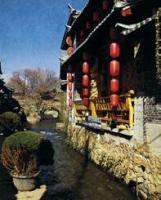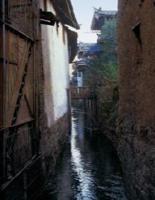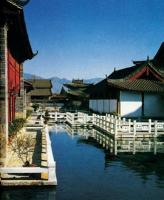 Lijiang is separated into old and new towns that are starkly different. The approximate line of division is Shizi Shan (Lion Hill),the green hump in the middle of town that's topped by a radio mast and looking at the Past Pavilion a new pagoda. Everything west of the hill is the new town, and everything east is the old town.
The easiest way into the old town is from the north, along Dong Dajie. This area was largely reconstructed following the 1996 earthquake.From the long-distance bus station head east one block and follow an alley lined with snack bars heading north.The old town is a delightful maze of twists and turns-although it's small, it's easy to get lost in, which , of course, is part of the fun.
Main attractions:Old Town, Mu Family Mansion, Black Dragon Pool Park(Heilong Tan Park), Xuan Ke Museum