Peng Liyuan, the wife of Chinese President Xi Jinping, hosted a tour of
Summer Palace
in
Beijing
together with other wives of presidents of other APEC countries on Nov.11th, 2014.
Peng's guests were in
Beijing
with their husbands who are attending the 22nd Asia-Pacific Economic Cooperation Economic Leaders' Meeting(APEC). They took a boat on Kunming Lake and watched dancing and Peking Opera performances and visited a folk art exhibition.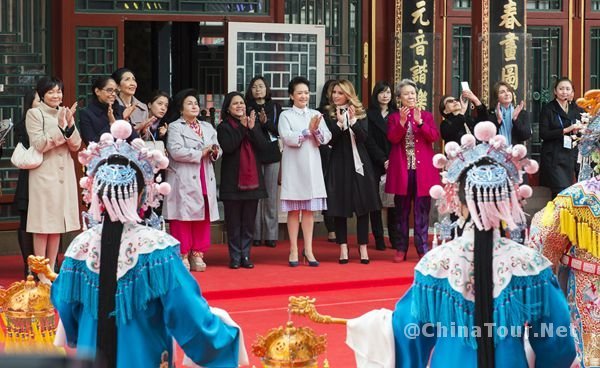 Peking opera of China is a national treasure with a history of 200 years. In the 55th year of the reign of Emperor Qianlong of the Qing Dynasty(1790) ,the four big Huiban opera Troupes entered the capital and combined with Kunqu opera, Yiyang opera, Hanju opera and Luantan in Beijing's thearetical circle of the time. Through a period of more than half a century of combination and integration of various kinds of opera there evolved the present Peking opera, the biggest kind of opera in China, whose richness of repertoire, great number of artists of performance and of audiences, and profound influence are incomparable in China.
Summer Palace is the best and best-preserved imperial garden of royal families. It is a blend of nature scenery and artificial landscape. It is listed as a World Heritage by UNESCO. The mountains, waters and architecture together form picturesque scenes that are amazingly beautiful. UNESCO declared the Summer Palace "a masterpiece of Chinese landscape garden design. The natural landscape of hills and open water is combined with artificial features to form a harmonious ensemble of outstanding aesthetic value."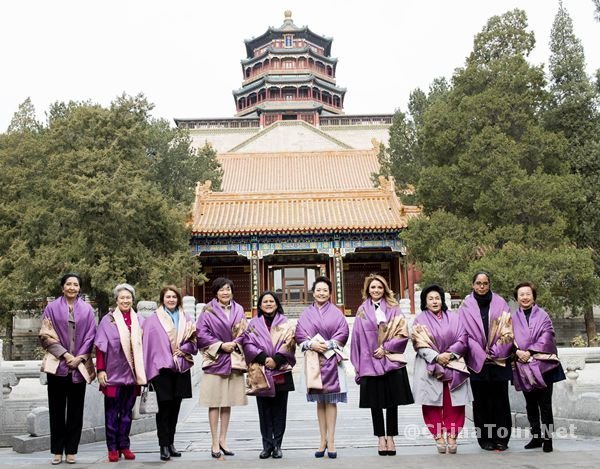 The attraction in the following photo is Tower of Buddhist Incense. The Tower of Buddhist Incense is the symbolic structure in the Summer Palace. It was built during the reign of Emperor Qianlong. The tower is 41 meters high. It faces Kunming Lake southward,thus tourists can have a bird's eye view of the lake. A nine-level pagoda was originally planned for the tower's location but Emperor QianLong (1711-1799) ordered it to be dismantled during the construction of the eighth level. 
More information about Summer Palace.
 Other World Heritages in Beijing are the Great Wall, the Forbidden City, Temple of Heaven, Ming Tombs and Peking Man Site at Zhoukoudian.
The guests included wives of Indonesian President Joko Widodo, Mexican President Enrique Pena Nieto, Japanese Prime Minister Shinzo Abe, Malaysian Prime Minister Najib Razak, New Zealand Prime Minister John Key ,Papua New Guinea Prime Minister Peter O'Neill, Singaporean Prime Minister Lee Hsien Loong, Thai Prime Minister Prayut Chan-o-cha and senior Taiwan politician Vincent Siew, representative of the region at the APEC meeting.