As an indispensable part of Chinese feature, water towns in east China is a destination that tourists cannot miss. Waters running across the town, with bridges built across the waters, houses along the riverside, boats and trees, all these things just form a typical image of water towns in the south of Yangtze River. The best time to photograph is early morning and late afternoon, because there are fewer people and the sunlight is better for photographing. Hotels are usually available both in and outside of the scenic areas. It would be a good experience to stay overnight in the hotels along the riverside. These waters towns are not far from Shanghai, Hangzhou and Suzhou. Though it is recommended to stay overnight in the scenic area, a day trip from neighboring cities is also a good choice if you have a tight schedule. The following is an brief introduction of popular water towns in China, including Zhouzhuang, Wuzhen, Xitang and Nanxun.
Zhouzhuang
Zhouzhuang Village is located in Jiangsu Province, southeast of China. As a popular tourist destination, Zhouzhuang is perhaps the most famous water town known by foreign tourists. It has been described as the Oriental Venice. It is located 52km away from Suzhou downtown, easy of access from Suzhou and Shanghai. View Zhouzhuang tours.
Ticket: CNY100
Attractions: Twin Bridges, Residence of Shen' Family, Fu'an Bridge, Taiping Bridge and etc.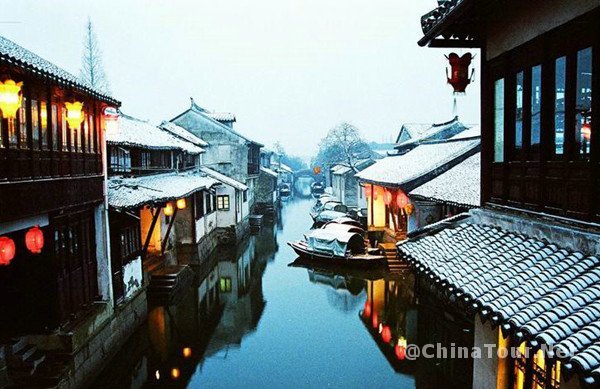 Wuzhen
Wuzhen is located in Jiaxing County, Zhejiang Province, which is about 120km from Shanghai and 80km from Hangzhou. There are two parts of scenic areas: Dongzha and Xizha, which literally means eastern fence and western fence. There are old academy, cloth workshop, shoe stores, post office, theatre, drug store, silk workshop and etc. Wuzhen has been trying to return to its original appearance and life here. The through ticket of two parts is CNY150. It is recommended to stay overnight in Xizha. The night scene of this place is very beautiful.
Xitang
Located in Jiashan County in Zhejiang Province, Xitang has become well-known overseas since the publish of the movie Mission Impossible III featured here. The history of Xitang dates back to several thousand years ago. Now, most of local architecture and houses are built in Ming and Qing Dynasties. Yongning Bridge is a perfect spot to take pictures of rivers, stone pavement and houses on both sides.
Ticket: CNY100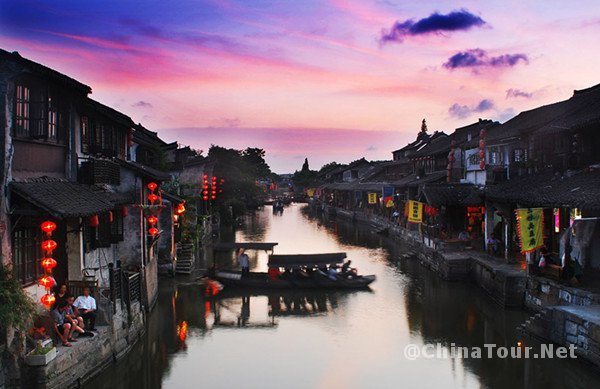 Nanxun
Nanxun is a district in Huzhou City, which is about 90km away from Hangzhou and 70km from Suzhou. Many wealthy people lived here in the history, so it was called the Town of Wealth. The local residences are well-preserved.
Attractions:Silk Guild, Little Lotus Villa, Tongji Bridge, Former Residence of Liu Tiqing, Jiayetang Library, Guanghui Bridge etc.
Ticket: CNY100
There are also many other water towns in China, such as Tongli, Zhujiajiao, Luzhi, Mudu and etc. Though not as famous as the above mentioned, they all have their unique history and feature. For the tourists who would like to catch a glimpse of life in water towns for the first time, Zhouzhuang and Wuzhen would be your best choice.