Shuanglang is a small county located in the northeast of Dali. It is surrounded on three sides by mountain and one side by Erhai Lake. There is a curve bay of 7 kilometers in the north called Lotus Curve and another one of 5 kilometers in the south called Luoshi Curve. The two bays look like two corridors. This is why it is called double corridors, which is Shuanglang in Chinese pinyin. Situated beside a river at the foot of a mountain, no wonder Shuanglang has attracted more and more visitors with its beautiful scenery.
There is no severe hot weather or cold weather. It is a good place to take a vacation and enjoy oneself. Tourists usually visit Shuanglang together with other attractions in Dali such as Dali Old Town, Three Pagodas of Chongsheng Monastery, Xizhou and Zhoucheng.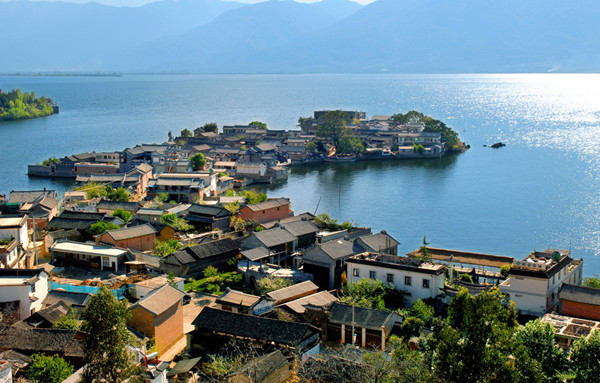 How to get to Shuanglang
From Dali downtown: take a bus from Xiaguan North Bus Station.
From Dali Old Town: take a bus from Dali Road in the east of old town.
Tourist could also rent a car from Dali Old Town to Shuanglang and it cost about CNY100~150.