| | | | | |
| --- | --- | --- | --- | --- |
| Image | Name | Star | Price | Book |
| | 2 Day Tour to Grassland and Hohhot | | $284 | Book |
| | 3 Day tour to Grassland-Desert-Genghis khan Tomb | | $613 | Book |
| | 5day (4night) Mongolian Highlights Tour Pacakge | | $790 | Book |
| | 5 Day Train Travel Grassland tour in Inner Mongolia | | $624 | Book |
| | 4 Day Train Travel from Beijing to Inner Mongolia | | $442 | Book |
| | |
| --- | --- |
| Displaying 1 to 5 (of 5 Inner Mongolia Travel) | Result Pages: |
Question and Answers: Totally 64 Q&A about Inner Mongolia Travel Ask a Question
Question:
Hi China tour,A group if 4 if us are hoping to travel to Innermongolia in August and were hoping to have a week long adventure taking in the grasslands, Gobi dessert and interaction with the native Nomads,Would it be possible to have a package where there is more horse riding through the grasslands possibly three days
more..
Answer
Dear Clidhna: 5day (4night) Mongolian Highlights Tour Pacakge three Star Hotel + Tour Package : $822 (5,000CNY) per person our itinerary is Day1 arrival, Huitengxile Grassland Day2 Resonant Sand Gorge , Genghis Khan's Mausoleum Day3 Erdos -> Baotao -> Huhhot Day4 Huhhot Day5 d
more..
Question:
3 out of the 4 travellers are vegetarians (we don't eat eggs, sea food (fish, shrimps), poultry (chicken) meat (pork , beef),Would it be possible for you to arrange for vegetarian breakfast, lunch and dinner?
more..
Answer
Dear Swathi, . Yes, we can arrange the vegetarian for breakfast, lunch and dinner. For Grassland tour, the end of Apr is not good time there, because you cannot see much green grass, and the night is cold too, so we will not arrange the overnight on the grassland, is t
more..
Question:
Your questions about our tour package?:,can i customize it to 1 day tour? yes. Definitely i have to customize due to short-time of period travel,I wish to traven to grassland for my very short period in innner mongolia, and hope you can help on it,Reach Hohhot airport: 5/10/2014 - 10.45 am -,wish to travel to Xilamure
more..
View Answer
Hi paulene,But according to your flight schedule, you will not have enough time to visit the Grassland and because of the weather conditions now, there are not much to see now in the grassland, so if you like, we can arrange a visit for you to visit the city of Huhhot, how do
more..
Share This Page: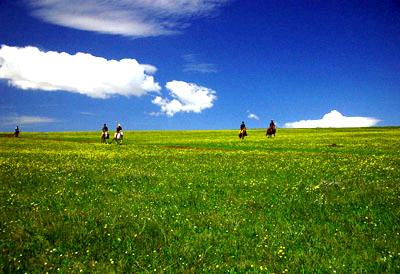 Grassland in Inner Mongolia
Customized Tour: We tailor our service for you ->

Enquiry/Quotation