| | | | | |
| --- | --- | --- | --- | --- |
| Image | Name | Star | Price | Book |
| | 1 day tour: Longmen Grottoes&Shaolin Temple from Xian(by train) | | $295 | Book |
| | 2 Days Tour for Longmen Grottoes Cave & Shaolin Temple | | $278 | Book |
| | 3 Days Train travel (Beijing -Luoyang) | | $232 | Book |
| | 1 Day Tour: Luoyang Longmen Grottoes, White Horse Temple and the | | $229 | Book |
| | 2 Days Tour: Longmen Grottoes and Shaolin Temple (by train) | | $328 | Book |
| | 3 Days 2 Nights Longmen Grottoes and Shaolin Temple from Xian | | $505 | Book |
| | |
| --- | --- |
| Displaying 1 to 6 (of 6 Henan Tour (Shaolin, Longmen)) | Result Pages: |
Question and Answers: Totally 21 Q&A about Henan Tour (Shaolin, Longmen) Ask a Question
Question:
lease advise cost for 1 person on this tour. Do you have any join in group options?
more..
Answer
asked by Amy, 08/27/2015
Dear Amy, again we can only arrange private tour for you, and the price is $469 (2,970CNY) if you are 1 person. Our price including:A. Entrance tickets at sites; fast train tickets between Xian and Luoyang.B. Fixed Lunch arrangement in local restaurant.&nbs
more..
Question:
Your questions about our tour package?:,I am interested in this 1 day tour (longmen Grottoes and shaolin temple from Xian by fast train. Is it possible to take an earlier fast train between 6:30 pm and 7:00 p.m,later than 7:00pm back to Xian?
more..
Answer
asked by Julie, 08/06/2015
Dear Julie, Thanks so much for your prompt email to us, and for this 1 day tour, we can arrange the back train by G819 17:32-19:15, is that OK? According to the itinerary, we cannot arrange an earlier train than 17:32pm. Here is the itinerary and price. Tour OverviewDuration: 1 Day (Starts from 7:00 am,finishes
more..
Question:
Your questions about our tour package?:,Yes,I would like you to pick my family up at Guanlin train station in the morning to go to Longmen Grotoes and Shaolin Temple. After that, drop us at our hotel in Luoyang. Is that possible? How much that would cost?
more..
View Answer
asked by Saul, 06/28/2015
Hello, We can pick you up from Guanlin Train Station and arrange a private tour for you to visit the Longmen Grottoes and Shaolin Temple, but before sending you the price, we would like to know how old is your child? And your hotel so that we can check the address. Await fo
more..
Share This Page: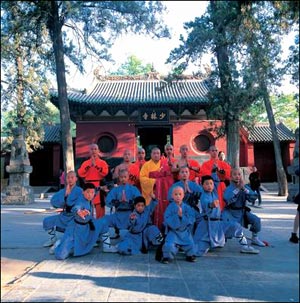 Shaolin Temple Where Monks Used to Practise Martial Art
Customized Tour: We tailor our service for you ->

Enquiry/Quotation