Taxi has always been an important part of Beijing transportation. It is convenient to travel around the city by taxi. However, it is difficult to take a taxi in peak hours.
Beijing Taxi Fare Standard
Flag Down Fare: CNY13 for the first 3km
Unit Fare: CNY2.3 per km for additional kms over the first 3km
Low Speed Driving and Waiting Fare:
When the speed is less than 12km/h due to the passenger' demand or traffic jam, additional fee will be charged, which is equal to twice the unit fare(CNY4.6) every 5 minutes during peak hours; additional one time of the unit fare(CNY2.3) will be charged every 5 minutes during low hours.
Fare for returning empty:
For over 15km per ride, the surpassed part will be charged additional 50% of the unit fare per km.
Night Fare: 23:00-5:00(the next day), there will be additional 20% charge of the unit fare per km.
Tolls: The passengers are required to pay for the tolls.
Note: Peak hours: 7:00-9:00 17:00-19:00
Taxi Booking Fee: CNY6 per ride book over 4h in advance; CNY5 per ride book within 4h in advance.
Service hotline: 96106, 96103, 96109
For taxi complaints: 68351150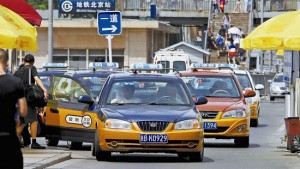 Note:
1. Three yuan (CNY3) surcharge will be added beyond 3km to balance the oil hike according to the policy of the local government.
2. The Beijing Airport Expressway is free of charge into the city, but retains the CNY 5 fare toward Beijing capital airport.
3. Pre-book a Taxi in advance with a Beijing taxi company so that your taxi driver can "meet & greet" you, your clients, friends or family at the Beijing Airport, train stations, your hotel, or at your office, home or any other place.