As the capital of People's Republic of China, Beijing has always been enjoying the fame of an oriental time-honored city full of rich culture and history. Nowadays, it has grown to a world-class metropolis, a blend of tradition and modernity. Every year, millions of people from both home and abroad come to this city to explore and experience. Book a Beijing Tour
Beijing has drawn more and more attention from other parts of the world since 2008 Beijing Olympic Games. Once being thought as a mysterious old city, however it has been ready to open to the rest of the world for many years.  Beijing has the most world heritages and there are lots of places of interest to visit. The world heritages listed by UNESCO are the Great Wall, the Forbidden City, the Temple of Heaven, the Summer Palace, the Ming Tombs and Peking Man Site at Zhoukoudian.
Once you step on the land of this city, you will soon learn that this is a unique city and it is way beyond your imagination. Travelling on an exotic land is never just a list of destinations; it's more about the city itself, the culture, the people and way of their life.
Beijing Attractions Video
Beijing Overview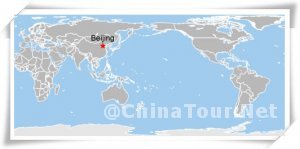 English Name: Beijing(or Peking)
Chinese Name: 北京
Time Zone: UTC/GMT +8 hours (the whole China is set to Beijing time)
Coordinates: 39°54′50″N 116°23′30″E
Municipality: 16,801.25 km2 (6,487.00 sq mile)
Elevation: 43.5 m (142.7 ft)
Population: 19,612,368 (2010)
Beijing's long history left us precious legacies. Like a dragon twists and turns along the mountains, the Great Wall of China has become a national icon. The Forbidden City is not forbidden any more. You can catch a glimpse of the imperial life of ancient emperors. The Temple of Heaven, which is even bigger than the Forbidden City, was a place for emperors to worship heaven and pray for good harvest. Hutong is more a part of local life. Anyway, Beijing is a city worth exploring.
Top Beijing
For people who want to have a quick learn about Beijing, we have prepared a few Top Beijing lists. If you come to this city for the first time, we recommend you the Top 10 Must See Attractions. The night scene is ablaze with lights. If you are looking for somewhere to go in the night, check the Top 10 Night Life Attractions. We also list the top romantic places, shopping places, Beijing food, things to buy, must-see shows, free attractions, museums, modern architecture etc.
Planning a tour in Beijing? We ChinaTour.Net is ready to offer you the best tour service. We will do our best to meet your demands and ensure you a once-in-a-lifetime experience in Beijing.  You may book a tour on our website, or you can custom-make your own tour and inform us.
Recommended Beijing Tours:
Beijing has a time-honored history of producing various kinds of snacks. The history of Beijing's cuisine is as long as the history of Beijing itself. As it is the capital city for Liao, Jin, Yuan, Ming and Qing Dynasties, Beijing's cuisine is based on northern cuisine and has absorbed the essence the all parts of China. You can find almost all the typical food of China here, even foreign food.    

>>Read more
| | |
| --- | --- |
| | Beijing is a shopping paradise. You can find both international brands and local time-honored brands with Chinese features here. There are many time-honored shops with hundreds of years' history, such as Ruifuxiang Silk Store, Zhangyiyuan Tea Shop, Shengsifu Hat Shop, Tongrentang Pharmacy, Neiliansheng Shoe Store and so on. >>Read More |
Besides the natural beauty and historical sites, Beijing still has a lot to explore.  You can find many things to entertain yourself. There are bars for you to drink, chit-chat and enjoy yourself at night. You can watch Chinese traditional performance, such as Kung Fu show, acrobatic show, shadow play etc. Spending a whole day in an amusement park with your friends or family also sounds like a good idea. 
>>Read More
Beijing has a long and rich history of over 3,000 years. The earliest residents of Beijing is Peking Man lived in Zhoukoudian from 770,000 to 230,000 years ago.
Beijing was first mentioned in history in the chronicles of the Zhou Dynasty's conquest of the Shang Dynasty in the 11th century BC. A city called Jicheng was established in the southwest part of present Beijing by a state called Ji. Then it was conquered by Yan Country and the city was renamed Yanjing.   >>Read more
Beijing's climate is defined as "continental monsoon." It has distinctive four seasons. In spring time, it is a bit dusty and windy. Spring is short here and excursions are a popular form of tourism. Summer is hot, but the hot weather is short-lived, plus, rainfall is plentiful. Autumn, lasting about 50 days, is the best season for tourism and the temperature is mild and the sun is out a lot. Winter is long and cold, but the ice lantern shows an skiing still attract many tourists. >>Read more
| | | | | | | | | | | | | |
| --- | --- | --- | --- | --- | --- | --- | --- | --- | --- | --- | --- | --- |
|  Annual Average Temperature |  Jan |  Feb | Mar | Apr | May | Jun | Jul | Aug | Sept | Oct | Nov | Dec |
|  Daily Average Maximum Temperature(℃) |  1.6 |  4 | 11.3 | 19.9 | 26.4 | 30.3 | 30.8 | 29.5 | 25.8 |  19 | 10.2 | 3.3 |
|  Daily Average Minimum Temperature(℃) |  -9.4 |  -6.9 |  -0.6 |  7.2 |  13.2 |  18.2 | 21.6 | 20.4 | 14.2 |  7.3 |  -0.4 |  -6.9 |
|  Rainfall(mm) |  3.0 | 7.4 |  8.6 |  19.4 |  33.1 |  77.8 |  192.5 |  212.3 |  57.0 |  24.0 |  6.6 |  2.6 |
|  Days of Rainfall(day) |  2.0 |  3.1 |  4.1 |  4.6 |  5.9 |  9.7 |  14.1 |  13.2 |  6.8 |  5.0 |  3.7 |  1.6 |
As the capital of China and an international metropolis, there are a lot of people travelling in this city everyday from both home and abroad. Although traffic jams frequently emerge here, travelling in the city is of much convenience. >>Read More
Travel from Beijing to other cities                                   >>more cities
What are the most important aspects during one's journey? Perhaps they are sightseeing, transportation, tour guide and of course hotel. For each day of your trip, you will spend at least one third of your day in hotel. The sleep quality counts a lot during your trip. Thus it seems very important to find a good hotel. There are many hotels of different locations and star rates in Beijing. Go and find your hotel with best value!
This Beijing map tool can help you find attractions, hotels, shopping centers etc in Beijing quite easily. Click here to view Beijing Map.
Money
China's legal currency is Renminbi (RMB), officially CNY (China Yuan). Its symbol: ¥; Monetary unit: Yuan (元) and Fractional units: Jiao (角) and Fen (分).  >>Read more
Electricity
The electricity in China is 220V. It is advised to bring a voltage converter. Some hotels may offer voltage converters for customers.
Language and Communicating
The official language of China is Mandarin.  As a metropolis, Beijing is ready to welcome friends from all over the world. Most hotels, restaurants, scenic spots and public places have English signs and some even have Japanese or Korean signs. Many hotel staff can speak English. If you want to ask directions or something else, ask youngsters for help because they are likely to know English. If you want to go somewhere, it's best to look it up on the internet about how to get there. Write down the Chinese address of your hotel and destination in case you get lost.
Travelling in an exotic city can be new, adventurous, strange and exciting. Beijing is a city ready to welcome friends all over the world. Here are a few tips about travelling in Beijing.  Hope to make your tour a little bit better.  >>Read more