Shaanxi Province is located in the interior of China mainland. It is one of the origins of Chinese civilization. Xi'an, as the capital city of Shaanxi Province, is one of the most famous historic cities in China. The history of civilization dates back to 7000 years ago. It has become a city in 3100 years ago. The city was the capital of 13 most glorious dynasties including Zhou, Qin, Han, Tang and so on. The rich cultural legacy and profound cultural heritage formed the Shaanxi unique historical cultural features.
Xian Sightseeing
Xian, one of the most popular destinations in China, shines with its rich culture and history and has attracted more and more visitors. The Qin Terra-cotta Warriors and Horses, a must-see attractions for whoever come to Xian, was built during 246 B.C. and 208 B.C. Nearly 8000 clay warriors and horses as big as the real ones have been unearthed so far. It was described as the one of the eight wonders in the world and one of the greatest archaeological discoveries in the twentieth centuries. Book a Xian Tour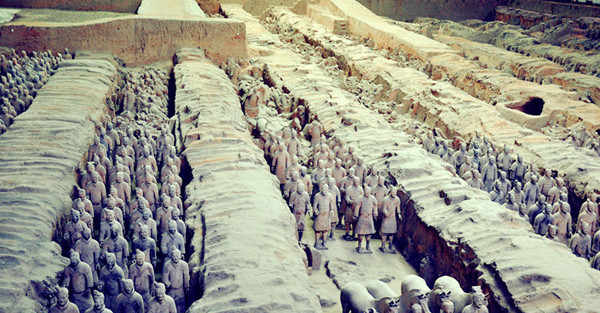 Usually, it takes about 2 or 3 days for most visitors to visit Xian, including the most famous attractions such as Terra-cotta Warriors, Xian City Wall, Bell Tower, Shaanxi History Museum, Wild Goose Pagoda and etc. The local cuisine is another highlight that visitors cannot miss.
There are hotels of different star rates in Xian. Book a Xian Hotel
How to get to Xian
Both flights and trains are available in Xian. High-speed trains have been available in Xian. There are 16 pairs of bullet trains travelling between Beijing and Xian everyday. It takes only 5 hours to travel from Beijing to Xian by train. Book a Train Ticket
It is also very convenient to travel to Xian by flight. It takes about 2 hours to fly from Beijing to Xian. Xian Xianyang International Airport is located 30 kilometers northwest of the downtown. Book a Flight Ticket
Besides Xi'an, other places in Shaanxi Province such as Hukong Waterfall, Yan'an, Hanzhong are also worth visiting.