Located in southwest China, Chongqing is quite a beautiful mountain city of China. It has undergone a great change since it became the municipality city. It is also the starting point of Yangtze River cruise. Book a Yangtze River Cruise
Chongqing is also known as the "Foggy City". The city is located at the intersection of Yangtze River and Jialing River and it is surrounded by mountains, so the water vapor is not able to give off.
The history of Chongqing dates back to 3000 years ago. It was first set up as a Zhou(an ancient administrative division) in the year of 583 in Sui Dynasty. In 1189, it was named Chongqing by Emperor Songguangzong in the Song Dynasty. During the Anti-Japanese War, Chongqing is established as a second capital besides Nanjing. It became a municipality city in the year of 1997. Other municipality cities are Beijing, Shanghai and Tianjin.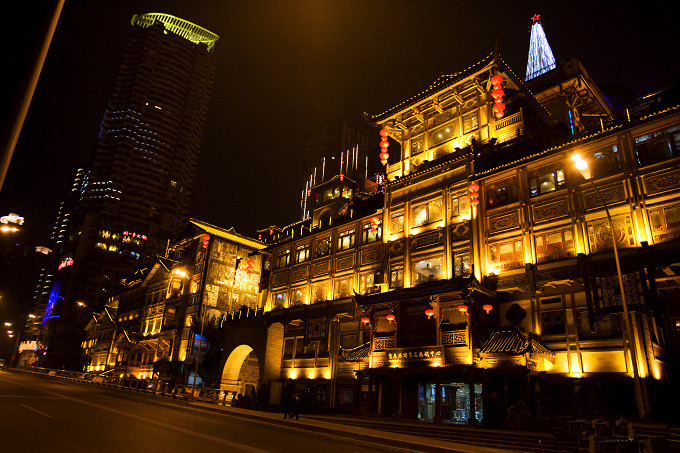 Spring and Winter are the best seasons to visit Chongqing. It is very hot in summer and rainy in autumn.
Since the landscape of Chongqing is quite complex and mazy, it is of great fun to explore the city. You will find light rail running through the high buildings; you will find another road after you going up the elevator; you will find there are various transportation means, such as cable cars, elevators, boats etc.
Attractions in Chongqing
Sightseeing in the downtown
Jiefangbei
Jiefangbei, literally means liberation stele, it is a stele to memorialize the Chinese victory of Anti-Japanese War. The surrounding area is a famous commercial area for shopping, dining and entertainment.
Foreign Street
Tourists will see both western style architecture and traditional Chinese architecture on the street.
Hongya Cave
Hongya Cave is located at the intersection of Yangtze River and Jialing River. It is acturally not a cave at all. It is an area of traditional local residence call Diaojiaolou. The night scene is stunning.
Ciqikou Ancient Town
It is the only ancient town located in Chongqing. Walk along the stone pavement, enjoy a restful afternoon and experience an old time in Chongqing.
Sightseeing in Wulong area
Located at the southeast side of Chongqing, Wulong is famous for its natural scenery. It has the biggest natural bridge group in Aisa. It takes about 2 days to visit Wulong Scenic Area.
Attractions: The Three Natural Bridges, Furong(Lotus) Cave, Furong(lotus) River, Fairy Mountain and etc.
How to get to Wulong from Chongqing downtown by train
There are 10 trains available from Chongqing North Train Station to Wulong Train Station everyday. It takes about 2 hours and the ticket fare is CNY25.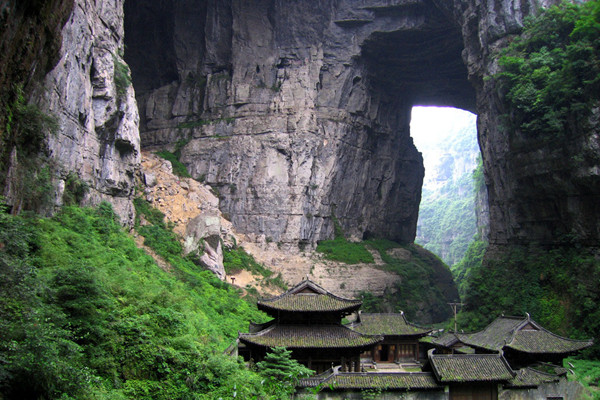 Useful Information
How to get to Chongqing
Both flights and trains are available in Chongqing. There are flights available between Chongqing and most major cities in China. Chongqing Jiangbei Airport is located about 20 km away from the downtown. Book a flight ticket High-speed trains are available between Chongqing and Beijing, Shanghai, Chengdu, Yichang and etc. Book a train ticket
Local transportation
Taxi
Daytime: CNY10 for the first 3km, CNY2 per km for the additional kilometers after 3km.(The meter charges every 500m)
Night: CNY11 for the first 3km, CNY2.3 per km after 3km.(The meter charges every 500m)
Public bus
Running hours: usually 5:30-22:00
Ticket fare:   ordinary bus CNY 1; air-conditioned bus CNY 2
Light rail
The light rail of Chongqing is well developed. There are several lines travelling across the city everyday. Ticket fare ranges from CNY2. The light rail runs across the forest, buildings and along the riverside. It is actually a good way to watch the unique scenery of the city.