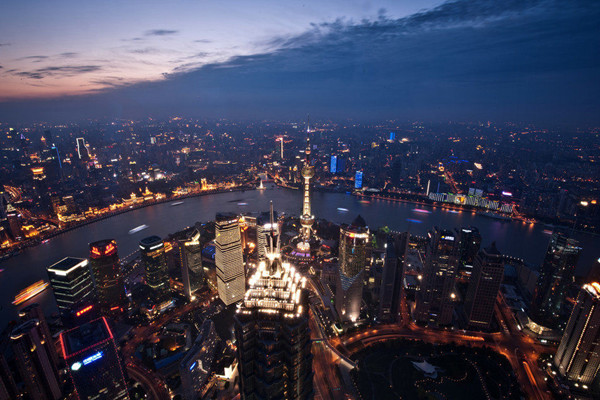 Shanghai is well known in the world not only for its prosperous cosmopolitan feature but also for its rich humanistic resources. In recent years, a number of modern buildings have been added to the city, such as the Oriental Pearl TV Tower, Shanghai Museum, Shanghai Library, Shanghai Stadium, Shanghai Grand Theatre, Shanghai Circus City, Shanghai City-Planning Exhibition Hall and Jin Mao Tower, Shanghai Science & Technology Museum. They have become new scenic sights in Shanghai. Colorful festivities, like Shanghai Tourism Festival and Shanghai China International Art Festival, have attracted and increasing number of tourists from home and overseas.
Since Shanghai succeeded in winning the bid for the sponsorship of world Expo 2010, all sectors of preparation work have started and are in progress. The world has given China a share of luck and Shanghai will add more splendor to the world. Shanghai is ushering in excellent opportunities for development. People of Shanghai warmly welcome visitors from home and overseas.
Telephone code: 021
Population: 13.2 million
Area: 6340 sq km
More attractions in Shanghai: Xintiandi ,  Jade Buddha Temple
History
Shanghai, the most cosmopolitan, vibrant and economically prosperous city in the world, is originally a fishing village on a mudflat which almost literally overnight became a great metropolis.
Inevitable meeting place of world travelers, the habitat of people of forty-eight different nationalities, of the Orient yet Occidental, the city of glamorous night life and throbbing with activity, Shanghai offers the full composite allurement of the Far East.
Not a wilderness of temples and chop-sticks, of jade and pajamas, Shanghai in reality is an immense and modern city of well-paved streets, skyscrapers, luxurious hotels and clubs, trams, buses and motors, and much electricity.
Less than a century ago Shanghai was little more than an anchorage for junks, with a few villages scattered along the low, muddy banks of the river. What it will be a hundred years from now is a test for the imagination. Principal gateway to China, serving a hinterland population of more than 200,000,000, many close observers believe it will become the largest city in the world.>>More
Local Cuisine
Shanghainese food is not known for being the best in China! However, over the years Shanghai has become a city that excells at bringing together many different kinds of cuisine. This wonderfully modern and fashionable city has excellent European Continental cuisine in stylish restaurants such as "M" on the Bund and French, German and American cuisine are widely available here. There are a couple of excellent Indian restaurants in the Tandoor and Hazara. Italian, Indian, Thai, Mexican, Vietnamese and even Brazilian and Cajun cuisine are also on offer here and the style and decor in many of the city's best places such as Face and Ali YYs, is beautiful and unique.
Beyond the various cuisine of the world, Shanghai is a center for the culinary culture of China. Here, you can taste famous dishes and culinary styles from all over China. Bifengtang is a great chain serving delicious Cantonese cuisine. Beijing, Yangzhou, Suzhou, Wuxi, Hangzhou, Ningbo, Fujian, Chaozhou, Henan, Anhui, Hunan as well as vegetarian and Xinjiang cuisine are all available with exceptionally high quality and authenticity in this city. Shanghainese cuisine too can be very delicious and 1221 is a beautiful place to sample the city's unique dishes. Explore our dining index for the best that Shanghai has to offer.
Some of the best and most interesting culinary offerings one can find in Shanghai include: Nanxiang Steamed Pork Dumplings, Local River Crabs, Vegetarian Steamed Buns, Chicken and Duck Blood Soup, and Niangao with Spare Ribs.
Shanghai's world-spanning culinary styles, superior dining environments, cosmopolitan atmosphere and high quality of service make the city a haven for all those who crave variety and excitement on their plate.
Shopping Station
Shop until you drop on China's premier shopping street Nanjing Road, or head for the Yuyuan Bazaar for Chinese crafts and jewelry not far from the Bund. Nanjing Road is a long street. The more famous part lies in the east near the Bund (Nanjing Road East), with a 1-km long pedestrian boulevard (Metro line 2 at Henan Road station) lined with busy shops. The wide boulevard is often packed with people on weekends and holidays. The shops are often targeted at domestic tourists, so the prices are surprisingly reasonable. Local people often look down on Nanjing Road and shop at Huaihai Road (another busy shopping boulevard with more upscale stores) instead. For the very high end, go to the west end of Nanjing Road West near Jing'an Temple. Several large shopping malls (Plaza 66 aka Henglong Plaza, Citic Plaza, Meilongzhen Plaza, and others being built) house boutiques bearing the most famous names in fashion. No. 3 on the Bund is another high-end shopping center featuring Giorgio Armani's flagship store in China. If you cannot afford the real thing, authentic-looking knockoffs can be bought at the Xiangyang Road Market for cheap. It's a big labyrinth-like open-air market on the corner of Huaihai and Xiangyang Roads. Rumor says the government is going to shut it down soon, so better hurry. Rather than pursuing knock-offs of Western brands, one of the more interesting things to do in Shanghai is to check out the small boutiques along Chang Le Lu and other streets in the French Concession area. Some of these are run by individual designers of clothing, jewelry etc and so the items on sale can truly be said to be unique. Shanghai Foreign Languages Bookstore in 390 Fuzhou Road offers a lot of books in English and other major languages, especally for leanining Chinese.
★ How is the weather in Shanghai?
Shanghai's weather is moderate (annual average temperature is about 15 degrees centigrade) and the seasons are not as distinct as in the North. Shanghai is characterized by a warm spring, hot summer, cool autumn and cold winter.
Shanghai receives abundant rainfall and the average annual precipitation is over 1000 cm. The "Plum Flower Rain" season (frequent light rain) is from from mid-June to early July with an average daily rainfall of 259 mm. During July and September, strong storms with torrential rain become frequent. However, it seldom snows in Shanghai.
Shanghai summers are hot and humid. July and August are Shanghai's hottest months with average highs of 27.4 degrees centigrade.
In winter, January is the coldest month, with a temperature average of 3 degrees centigrade.
All in all, it is best to go prepared with light clothing in summer and warm, heavy clothing in winter. Also, always prepare for rain by keeping an umbrella, but most hotels can equip you with one if needed!
★ When is the best time to visit Shanghai?
The best time to visit Shanghai is autumn. The temperature during this period is mild and rain is less likely than in spring and summer.
Live in Shanghai
Shanghai Hotel Map Guide You Find Right Hotel in Downtown Area
Book Suzhou Hotels | Book Hangzhou Hotels