The Bund is waterfront area in central Shanghai, The area centers on a section of Zhongshan Road within  the former Shanghai International Settlement, which runs along the western banks. of Huangpu River , facing Pudong, in the eastern part of Huangpu District. It is one of the most famous tourist destinations in Shanghai.
The Bund trench one mile along the bank of huangpu River. Traditionally, the Bund begins at Yan'an Road in the south and ends at Yan'an Road in the south and ends at Waibaidu Bridge in the north, which crosses Suzhou Creek.
The Bund centers on a trench of the Zhongshan Road, name after Su Yat-sen, Zhongshan Road is a largely circle road which formed the traditional conceptual boundary of Shanhai city" proper". To the west of this stretch of the road stands some 52 building of various western classical and modern style which is the main feature of the Bund.
The Bound houses 52 buildings of various architectural style, generally Eclecticist,  but with some buildings displaying predominantly Romanesque Revival, Gothic Revival, Renaissance Revival, Baroque Revival, Neo-classical Revival or Beaux-Arts styles, and a number in Arts styles, and a number in Art Deco style(Shanghai has one of the richest collections of Art Deco architectures in the world.)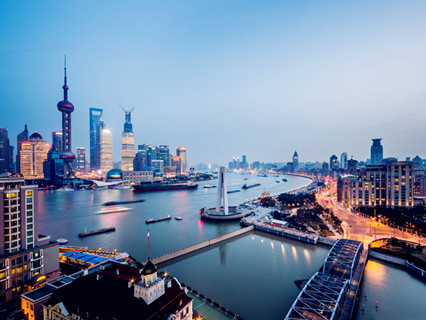 To the European, the Bund was Shanghai's Wall Street, a place of feverish trading, of fortunes made and lost. One of the most famous traders was Jardine Matheson & Company. In 1848 Jardine's purchased the first land offered for sale to foreigners in Shanghai and set up shop shortly after, dealing in opium and tea. The company grew into one of the great hongs (a hong is literally a business firm), and today it owns just about half of Hong Kong.
he Bund today is in the process of yet another transformation. The building identified by a crowning dome is the old Hongkong & Shanghai Bank, completed in 1921 with much pomp and ceremony. For many years it housed the Shanghai People's Municipal Government and was off-limits to curious travelers. Now it belongs to the Pudong Development Bank and you can take a look inside the magnificent central hall during business hours. Other Bund fixtures have also been fixed up and newly occupied by domestics and foreign companies.
There are many snacks and restaurants near the Bund, such as the Beer restaurant, the Italy restaurant, the seafood hot pot and so on.