Oriental Pearl TV Tower
Shanghai Oriental Pearl TV Tower was completed on Oct. 1, 1994. It is 468 m high, being the highest in Asia and the third highest in the world, only next the TV towers in Toronto in Canada and Moscow in Russia. It stands opposite to the bund on the west bank.. The architectural modeling of the tower is unique, expressing the flavor of oriental culture. The structure of the tower consists of 11 spheres, different in sizes and arranged at different levels, hanging from the sky down to the green lawns. It expresses the artistic concept of "pearls, big and small, dropping on a jade plate". The body of the tower is formed of two huge glittering spheres and one small delicate sphere; the sightseeing level in the upper sphere is 45 m in circumference, 263 m high, offering a bird's-eye view of the city. In the upper sphere at the 267-m level, there is a revolving restaurant, with one revolution every hour, a disco ball, a piano accompanied bar and at the 271-m level there are 20 KTV private rooms. The space cabin is at a level of 350 m, containing a sightseeing terrace, a meeting hall and a coffee room. Hotel in the Air is in the five smaller sphere with 20 guest rooms. The lower sphere contains a space city. There is a science fiction city inside the tower pedestal.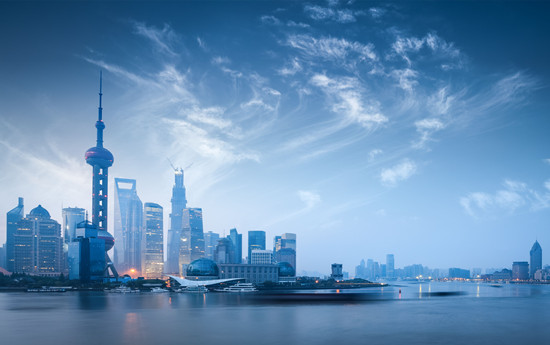 The Oriental Pearl TV Tower combines sightseeing, catering, shopping, recreation, accommodation, broadcasting and TV transmission into one body. It has become a symbolic architecture and a favorable spot for tourists in Shanghai. The Oriental Pearl Tower is 468 meters high, the highest TV tower in Asia and the third highest in the world. The Oriental Pearl Tower consists of three main whole-scope sightseeing floors. Tourists can enjoy the dynamic city view of different height. The Space Module is at the height of 350 meters; the highest revolving restaurant in Asia is at 267 meters; the main sightseeing floor is at 263 meters; you also can go outside at 259 meters and 90 meters. Located at the lobby of the Oriental Pearl Tower is "Shanghai's Urban Development History Museum". It consists of six halls: "Transportation exhibition" "Overview of the old city" "The architectural Landscape of Shanghai at the Beginning of the 20th century" "The Metropolis infested with foreign adventures" "Traces of Old Shanghai" "Architectures Exhibition". The cruise sightseeing on the Huangpu River is the new item of the Oriental Pearl Tower. Taking the luxurious cruise, you can enjoy fantastic scenes of both sides of the river.