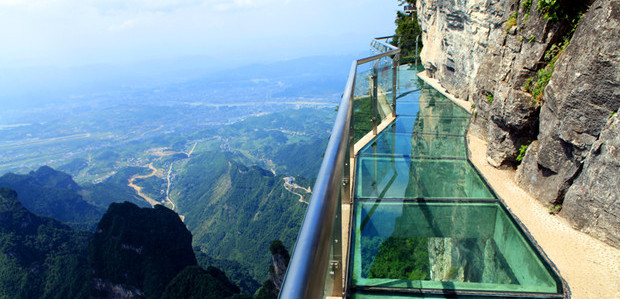 Located in Hunan Province, Zhangjiajie is known as a famous tourist city. When people say that they go sightseeing at Zhangjiajie, they usually means Wulingyuan Scenic Area. Wulingyuan Scenic Area covers an area of nearly 400 square kilometers. It is composed of Zhangjiajie National Forest Park, Tianzi Mountain Natural Resort and Suoxiyu Natural Resort, Yuanjiajie and Yangjiajie. It has become more popular since one of the attractions named Qiankun Column is known as the prototype of floating Hallelujah Mountain in the movie Avatar. Another attraction in Zhangjiajie you can't miss is Tianmen Mountain. The glass walkway built on the cliff will definitely take your breath away.Book a Zhangjiajie Tour
When is the best season to visit Zhangjiajie?
The best time to visit Zhangjiajie is from April to October. It is rainy in July. It is advised not to climb the mountain in rainy days for it will be slippery. Winter in Zhangjiajie is quite unique. If you are lucky enough, you will see the cloud sea or trees covering with glaze.
The attractions in Zhangjiajie can be divided into two parts. They are Wulingyuan Scenic Area in the north and Tianmen Mountain in the downtown.
Wulingyuan Scenic Area consists of Zhangjiajie National Forest Park, Tianzi Mountain, Suoxiyu, Yangjiajie and Yuanjiajie. The main attractions are covered in the through ticket of Wulingyuan, except Yellow Dragon Cave and Baofeng Lake. It takes 2-7 days to go sightseeing at Wulingyuan.
Tianmen Mountain is famous for its thrilling Glass Walkway built on the cliff. It takes about one day to visit it.
Click here to view more attractions in Zhangjiajie.
Tickets information
Wulingyuan Scenic Area
Through Ticket: CNY248 for 3 days(The ticket will be invalid at 18:00 on the third day.Tickets bought between 18:00-24:00 are regarded as they were bought the next day.)
CNY301 for 7 days
The ticket price includes the ticket fare of tourist bus, insurance fee(CNY 3), entrance tickets of Zhangjiajie Forest Park, Tianzi Mountain and Suoxiyu. Yuanjiajie, Yangjiajie, Jinbian(Gold Whip) Stream, Huangshi(Yellow Stone) Village, Shili Gallery etc.
Children under 1.3m is free of charge.
The ticket requires fingerprint identification. Each time tourists enter the tourist site, it is required to input the fingerprint. Tourists can go in and out the scenic site during the validity period of the tickets.
There are five ticket offices: Wulingyuan, Forest Park, Shuiraosimen, Yangjiajie and Tianzi Mountain.
Tourists usually bought tickets at Wulingyuan Ticket Office and Forest Park Ticket Office.
TIanmen Mountain
Entrance Ticket:CNY258 (including entrance ticket CNY75, Cable car round trip CNY150, tourist bus CNY33) + insurance CNY3
How to get to the scenic site
To Wulingyuan
Buses are available from Zhangjiajie Central Bus Station to different ticket offices of Wulingyuan Scenic Area. Tourists usually go to Forest Park Ticket Office, Wulingyuan Ticket Office and Tianzi Mountain Ticket Office.
To Tianmen Mountain
Take Bus No.4,5,6 and arrive at cable car station of Tianmen Mountain.
Flight
Zhangjiajie Airport is about 5km away from the downtown and 30km away from Wulingyuan Scenic Area. There are domestic flights available between Zhangjiajie and other cities, such as Changsha, Beijing, Shanghai, Guangzhou etc. Flights between Zhangjiajie and Seoul, Busan are also available.
Official Website: www.zjjhh.com
Airport inquiry: 0744-8238294/8238417
Airport ticket office: 0744-8238293
Airport flight inquiry: 0744-8220128/8227493                    >>Read more
Train
Train is available in Zhangjiajie. Zhangjiajie Train Station is located in the downtown. Bus No.1,6 are available. >>Read more
Long-distance buses
Buses are available from Zhangjiajie Central Bus Station to other cities, such as Wuhan, Wenzhou, Changde, Shanghai and etc. or counties and tourist sites around Zhangjiajie.   >>Read more