Kunming Travel Guide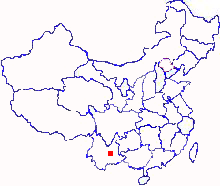 Kunming is approximately at the same location as northern Mexico, only on the other side of the world. However, because it's situated on a 1.2 -mile (2-km) high plateau and enjoys a protected location, with mountains to the north, east and west, it has a mild climate; with an average temperature of 65 degrees Fahrenheit (18 degrees Celsius), making it spring all year round.

The jurisdiction of Kunming has an area of 3,844 sq. miles (6200 sq. km), including four city districts and four rural counties (which supply the city with fruit and vegetables year round). It is one of the major cities that mainland Chinese go to visit over 2,000,000 per year, with another 800,000 foreign tourists visiting annually. If you're interested in finding out why so many people come to Kunming visit the Tourism section of this site.
The Stone Forest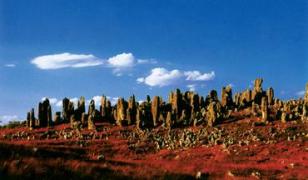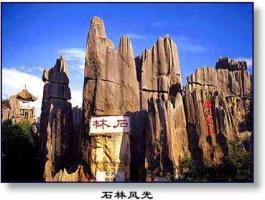 Being one of the National Scenic Resorts in China, Stone Forest Scenic Resort is 83km from Kunming and has a complete range of karst forms. Among the most wonderful attractions in this area are the following eight scenic spots: Large & Small Stone Forests, Naigu Stone Forests, Large & Small Zhiyun Caves, Qingfeng Cave, Long Lake, Moon Lake, Fairy Lake, Feilong Falls.
The Yi and Sani ethnic group who live there are hardworking and good at singing and dancing. Their folklore and culture are colorful and multifarious, backed up by a long history.
This area altitude is 1760 meters. This results in perennially pleasant weather, with the annually average temperature of 15.6 Celsius. The Stone Forest is connected with Kunming both by highway and railway, enjoying an easily accessible transport.

Xishan ( West Mountain )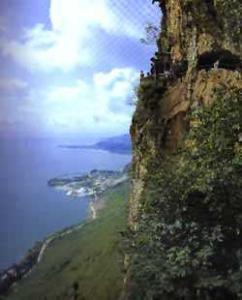 Looking at Xishan afar, you will find the mountain resembles a sleeping beauty lying on the Dianchi Lake. 19 kilometers from Kunming proper, Xishan is also known for stone sculptures on the cliff, represented by the Dragon Gate, which took 72 years to complete. Tourists can take a bird-eye view of the grand Dianchi Lake from the spot of the Dragon Gate.
Jiuxiang Cave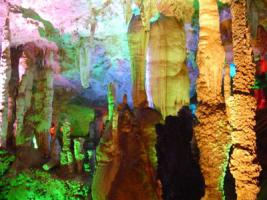 Situated in Yiliang County. Kunming Municipality, Jiuxiang Scenic Resort is 90 km from Kunming, 20 km from the Stone Forest Scenic Resort. Its scenic spots include a group of more than 100 caves, the Yi and Hui ethnic group's folklore natural scenery etc. Jiuxiang's cave group is said to be the largest and the most magic in China. Recently developed tourist attractions are Yincui Gorge, Jinghun Gorge, Lion Hall, Shennu Palace, Cixiang (Male and Female) Falls, Shentian (Fairy Field), Yi villages, Hanging Stone Forest and a tourist cable way. All these attractions are fascinating and marvelous, and prove to be unforgettable.
Yunnan Nationalities Villages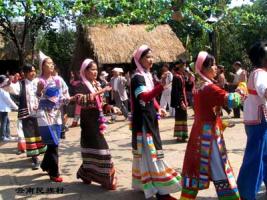 This wonderful theme park displays the colorful folklore and architectures of 25 ethnic group in Yunnan Province through shows and performances, a folklore museum and a wax museum for folklore, as well as the copy buildings of villages of the 25 ethnic groups.