Yu Garden

Yu Garden is a classical garden in downtown Shanghai, boasts a history over 400 years. Each pavilion, hall, stone and stream in the garden is expressing the quintessence of South China landscape design from Ming and Qing Dynasty. Over forty spots, divided by dragon walls, wound corridors and beautiful flowers, form an unique picture featuring "one step, one beauty; every step, every beauty."
It's reputed to be the most beautiful garden south of the Yangtze River. Built beside the Temple of the City God and covering only fives acres, it follows the Suzhou garden design of a world in microcosm, with 30 pavillions linked by corridors, artificial hills, bridges over lotus pools, groves of bamboo and walls occupied by stone dragons. The surrpounding bazaar is packed with traditional and modern shops, restaurants and temples.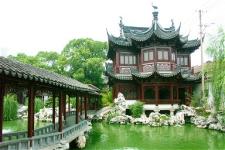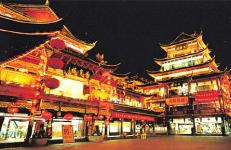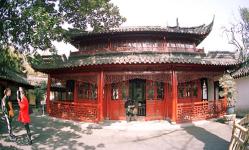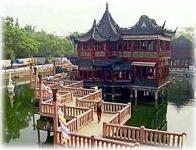 Yu Garden Bazaar
At the north-eastern end of the old Chinese city, the Yu Garden Bazaar is one of Shanghai's premier sights. Try not to visit on the weekend, through, as the crowds are pressing to say the least. See the Palaces to Eat section for details on the bazaar's justifiably famous and delicious snacks.
The Pan family, rich Ming dynasty officials, founded the gardens, which took 18 years (1559--1577) to be nurtured into existence and were snuffed out by a bombardment during the Opium War in 1842. The gardens took another trashing during French reprisals for attacks on their nearby concession by Taiping rebels. Now restored, thy are a fine example of Ming garden design.
Adjacent to the bazaar, Lao Jie (Old Street), known more prosaically as Fangbang Zhonglu, spills over with antique and souvenir shops. Chenghuang Miao( Temple of the Town Gods) and the street, together with the Yu Gardens Bazaar itself present a rather Disneyland version of historical China. It's a great stop for lunch and also handy for souvenir shopping.