The Stone Forest is a must-see attraction for tourists whoever come to Kunming. It is a set of limestone formations, which is a typical Karst landscape. As the name suggests, the scenic area is really a forest of stones. The stones are all oddly-shaped. They looks like horses, peacocks, phoenix and etc. Book a local tour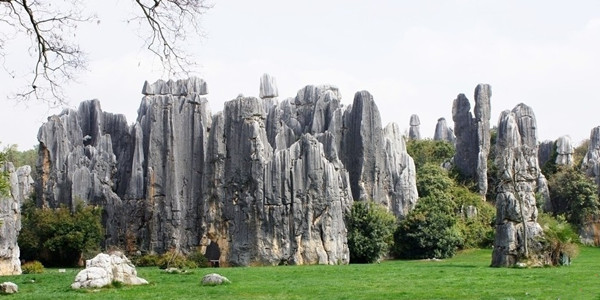 A stone named Ashima is perhaps the most famous stone in the scenic area. There is a love story coming down to the ages. A beautiful girl called Ashima was born in a poor family. When she grows up, she is very good at singing and dancing. Everyone likes her. Ahei's parents died when he was 12. He was saved by Ashima when he is lost in the wild. After that, he had been lived with Ashima's family ever since. He is honest and brave. Ashima and Ahei grow up together and fall in love with each other. One day, a rich but bad guy named Azhi met Ashima on the street and he want to use his money to talk her into marrying him. However, Ashima doesn't like him and do not care about money at all. Azhi was furious and then he prisoned Ashima in purpose of forcing Ashima to marry him. Ahei heared that and went to save her. The family of Azhi tried everything to stop him. Ashima was saved. Azhi was holding grudge against Ashima and Ahei. He colluded with Cliff Fairy to make the river flood. Unfortunately, Ashima was washed away by the floods. Ahei tried hard to find her, but never made it. He shouted and shouted. "Ashima! Ashima!"No one replied. In the end, Ashima turned into a stone. Whoever shout to her,she will reply the same.
Ticket fare: CNY175
How to get there
First get to Kunming East Bus Station, and then bought a ticket from Kunming to Stone Forest Scenic Site. It takes about 1.5 hours to get there. Or take a train from Kunming to Shilin. About 2 hours'ride. And then take a bus or a carriage to the scenic area.