Stir-Fried Beancurd Rolls Stuffed with Minced Tenderloin

Once upon a time, one hero specially ordered this dish for drinking, and it happened that the beancurd sheet in the restaurant was used up. The hero was unwilling to be disappointed, and he immediately rode his horse and took back the beancurd sheet when he was told that the beancurd sheet was customized in Sixiang Township of Fuyang. The shopkeeper was deeply moved. He cooked the dish elaborately for him and specially made it into the shape of horse bell. Thence, Stir-Fried Beancurd Rolls Stuffed with Minced Tenderloin was made known extensively.
West Lake Water Shield (Brasenia schreberi JF Gmel) is also called herb of rush-like bulrush and water lily leaf. Its tender stems, buds, and leaf rolls are all covered with white and  transparent jelly, in ricer contents of gelatin and other ingredients. According to determination, each 100g fresh water shield contains 900mg protein, 230 sugar, considerable Vitamin C and a small quantity of iron substrate. If water shield is cooked together with crucian carp into soup, it has the efficacies of dissipating excess internal heat and stopping vomit, expelling heat toxin and curing abscess as well as removing sore toxins. West Lake Water Shield Soup is also called "Chicken, Ham and Water Shield Soup", and it is the traditional Hangzhou famous Food.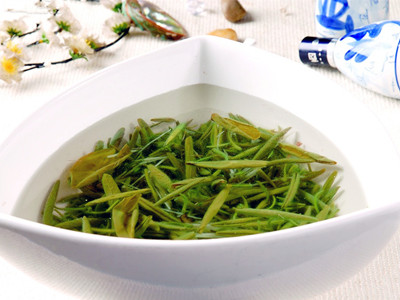 West Lake Fish in Vinegar Sauce
According to legend, in ancient times there lived the brothers of Ning's family who were well educated and retreated on the shore of West Lake, making a living on fishing. High official Zhao, the local scoundrel wanted to seize Sister Song when he saw Sister Song was good looking and charming and played a trick to bring down her husband. The younger brother brought a lawsuit to the local authority for revenge, only to be cudgeled as a result. Sister Song talked over the younger brother-in-law to flee to some other place. She cooked a huge fish from West Lake  with sugar and vinegar for a special purpose to give a farewell dinner before his departure and urged him  "to keep in mind the hardships of common people no matter in bitterness or in sweetness". Later on,  the younger brother-in-law gained some meritorious fame. On one banquet, he restlessly tasted the sweet but sour specially-made fish dish and finally found his renamed elder sister-in-law who was on escape. Then he quitted the official position and restarted a fisherman's family life.