Our guide will greet you at your hotel lobby and 1.5 hours drive to Dujiangyan Research Base of Giant Panda Breeding. Preparation before the event, introduction of the base situation, explanation of safety knowledge, signing of contracts and declarations, issuance of volunteer clothing gloves badges, etc.
set bamboo for the giant panda, tidy the stools, and clean the interior of the cages. Watching panda by a very close distance.
Prepare bamboo sticks for breakfast and lunch desserts and experience making "wowotou".Get close to the giant pandas, experience the magical interaction with them, feed delicious food to the giant pandas, observe the embarrassing feelings of the giant pandas, and learn about the dietary habits of the giant pandas.
Explore the Giant Panda Science and Education Center, learn about the giant panda rescue story, watch the giant panda science movie, and learn how we protect giant pandas and get touching stories with giant pandas.
Available: Everyday
Appointment required at least 2 days before your trip !
Departure Point: Your Hotel in the Downtown Chengdu
Departure Time: 7:00 - 7:30 a.m.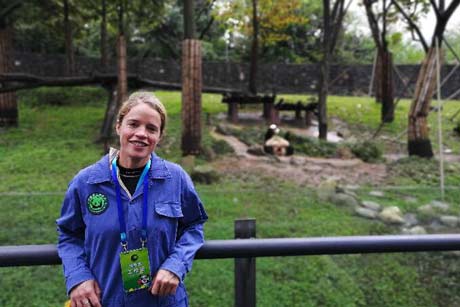 7:00 - 8:40 Hotel pick-up , drive to Dujiangyan panda base.
8:40 - 9:00 Your guide will help you to check in upon arrival.
9:00 - 10:00 Start tge oabda vikybteer work; Your will prepare the bamboo, clean the cage ,collect the panda pupu...
10:00 - 11:00 Free time on your own to explore the facility.
11:00 - 11:30 Feed the panda face to face.
11:30 - 13:00 lunch break ; you will have abuffet lunch in the staff canteen.
13:00 - 14:00 Watch panda documentary.
14:00 - 15:00 Refill the bamboo , clean the cage , feed the panda.
15:00 - 15:20 Make your own panda cake for panda.
15:20 - 15:30 Receive donation certificate and souvenirs.
15:30 - 17:00 Enjoy your private comfortable ride back to your hotel in Chengdu.