08:00-11:00 Pick you up from your hotel in downtown Shanghai and transfer to Hangzhou. Hangzhou is famous for its natural beauty and historical heritages, as the Chinese saying goes "There is a paradise up in the heaven, and there are Suzhou and Hangzhou on the earth".
11:00-12:30 Visit the Lingyin Temple & Feilai Peak Scenic Area . Situated in front of Lingyin Temple, as one of the ten most famous ancient Buddhist temples in China, it houses various Buddhist literature and treasures. among which more than 470 stone carvings of Buddhist figures were dated from the 10th to 14th centuries.
12:30-13:30 Lunch at local restaurant.
13:30-14:30 Visit the Six Harmonies Pagoda, which is erected by the Qiantang River and to the south of the West Lake. It is a perfect symbol of brick-and-wood structure built in the ancient China. It was first built in 970 AD in the Northern Song dynasty (960-1127). The name "Six Harmonies" comes from the six Buddhist ordinances, meaning "harmonies of the heaven, earth, east, west, south and north".
14:30-16:30 Visit the West Lake Scenic Area: Lying on the west edge of Hangzhou city, it is the symbol of Hangzhou as well as one of the most beautiful sights in China.
16:30-19:00 Return to Shanghai and transfer to your hotel.
Please note: If your tour is during the weekend, it takes 3-4 hours on the road, because you may catch the traffic jam.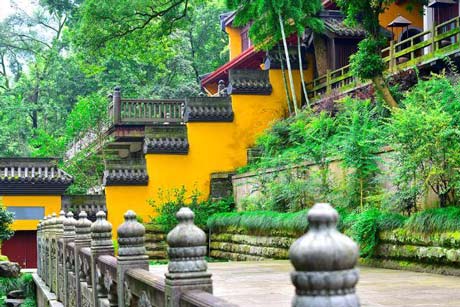 Lingyin Temple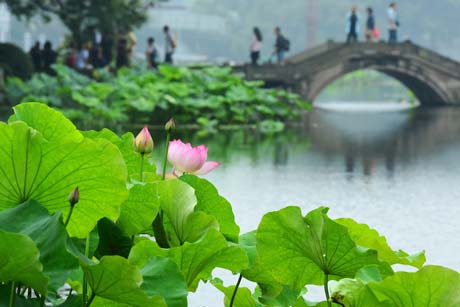 West Lake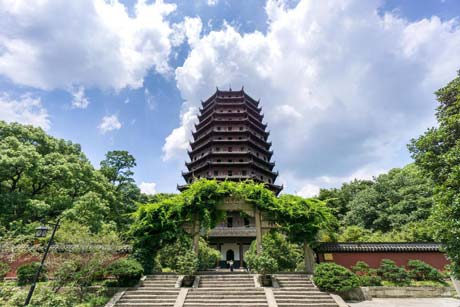 Six Harmonies Pagoda
Note:
When you arrive in Shanghai, our tour guide will call you the night before the tour. If you are not in hotel room, we will leave a message in your room, to inform the time to pick you up on the next morning.