Lunch
Pick you up from your Wusongkou Cruise Port at appointed time.
Drive to Zhujiajiao Water Town, an ancient water town beseting in lakes and mountains. The unique old bridges, well-structured courtyards and calm rivers and shy willows, all make the town a land of antiquity, leisure and tranquility.
Enjoy the cruise boat and nine scenic spots: including Y-Art Gallery, Tongtianhe Medicine Shop, Qing Dynasty Post Office, City God Temple, Shanghai Handwork Exhibition Hall, Imperial Academy Stele Museum, Shanghai Quanhua Art Hall, Yuanjin Meditation Room and Kezhi Garden.
Typical Chinese lunch included.
Transfer back to the cruise port or Shanghai Hongqiao Airport or your hotel in downtown Shanghai. Please inform us when you make the booking.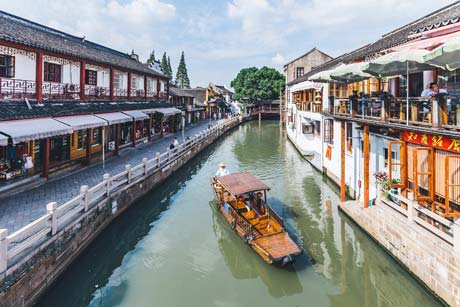 Zhujiajiao Water Town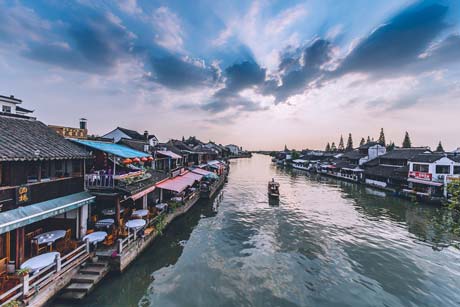 Zhujiajiao Water Town
About Zhujiajiao
Located in a suburb of Shanghai city, Zhujiajiao is an ancient water town well-known throughout the country, with a history of more than 1700 years. Covering an area of 47 square kilometers, the little fan-shaped town glimmers like a bright pearl in the landscape of lakes and mountains.
Endowed with another elegant name - 'Pearl Stream' - the little town is the best-preserved among the four ancient towns in Shanghai. Unique old bridges across bubbling streams, small rivers shaded by willow trees, and houses with courtyards attached all transport people who have been living amidst the bustle and hustle of the modern big city to a brand-new world full of antiquity, leisure and tranquillity.