Pickup from downtown hotel at around 9am, local English speaking guide will accompany you to view the snow carving in the Sun Island for Snow Expo, Siberia Tigers Park, Santa Sophia Church(outside visting), Center Street and World of Ice and Snow. Return to hotel.
Sun Island Snow Expo: It is the recreational center for the people of Harbin. They come here to enjoy the sun during summer. When winter comes, the river freezes solid. Ice-skating becomes the rage.
Siberia Tigers Park: The new Siberia Tiger Park was opened in 1996 on Sun Island. A large recreational district is currently under development, featuring gardens, swimming lakes, cafes, and a hunting range. The tiger reserve has been finished. The goal of the reserve is to save, study and breed these great cats in captivity and eventually release them into their natural habitat.
Santa Sophia Church: It is jammed into an area of new construction, most notably several karaoke entertainment complexes with monumental Roman statuary mounted on their garish facades.
Center Street: First built in 1925, Center Street is the most prosperous street in Harbin. It is also an architecture art gallery with the building in much kind of the styles such as Baroque, Eclecticism and so on.
World of Ice and Snow: the most beautiful seeings in winter Harbin, see lightening Ice Lantern and Snow Sculptures at night.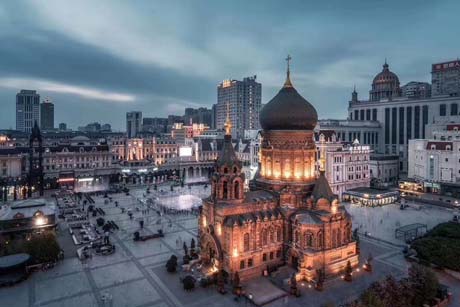 St. Sophia Church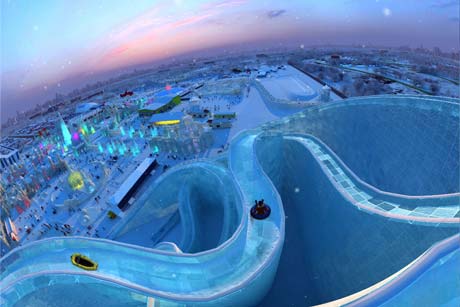 Harbin Ice and Snow World