In the morning, our guide will pick you up at your own booked hotel in downtown Hangzhou or Hangzhou highspeed railway station and accompany you to Wuzhen Water Town in about 1.5 hours' driving. Your private Wuzhen tour will begin with the Hundred-Bed Museum, which exhibits nearly 30 ancient wooden beds. You can see luxurious beds of wealthy clans, which have ingenious designs and exquisite carvings, as well as the austere beds of common people.
Afterwards, we will move on to the Sanbai Wine Workshop. You can not only admire the architectural style of this ancient wine workshop, but also have a taste of the local Sanbai Wine which is brewed in a traditional way. Then you will be guided to the Blue Printed Flower Fabric Workshop to see how to make the well-known exquisite fabric with ancient crafts.
After that, our guide will accompany you to enjoy the Shadow Play. It is a folk play telling stories and legends by manipulating paper-cut figures and animals between the light and a white screen. Lunch will be at your own expense. In the afternoon, you are free to explore Wuzhen Water Town by yourself. At the appointed time, we will drive you back to your hotel or railway station in Hangzhou.
Highlights
Wuzhen, an ancient water town in Zhejiang Province of China, is an ideal destination for a 1-day tour from Hangzhou. With a history of over 6,000 years, this ancient town features old houses lining up along the river and flagstone lanes as well as flowing water and stone bridges. Rambling along the stone paths of the water town, appreciating the buildings with elegant and simple architectural style, enjoying the delicious specialty in the snack street and experiencing the local customs and practices, you will be completely enchanted by the particular charm of the water town.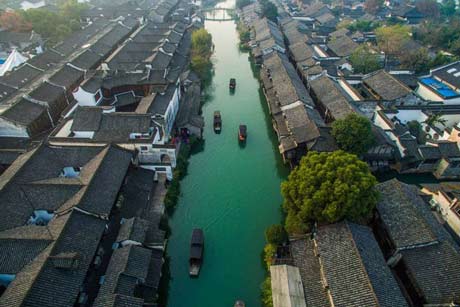 Wuzhen Water Town