09:00-10:30 Pick you up from your hotel in downtown Shanghai and transfer to Zhouzhuang.
Zhouzhuang is an ancient culture town in South China. The town is surrounded by water with many branching streams, stone bridges and old residence with black tiles and white walls. Our tour guide will accompany you to visit the scenic spots in Zhouzhuang, such as the Twin Bridge, Shen House, Zhang House and etc.
10:30-12:30 Visit Twin Bridge, Shen House and etc.
Twin Bridge consists of Shide Bridge and Yong'an Bridge. They look like an ancient key, so it is also known as Key Bridge.
Shen House was built by the offspring of Shen Wansan, who was the richest merchant in China during the Ming Dynasty. The house consists of seven courtyards, five archways, more than 100 rooms, covering an area of 2000 square meters, offering a unique traditional Chinese architectural style.
12:30-13:30 Lunch Time.
13:30-14:30 Cruise on the Zhouzhuang River (optional activity, RMB120/about USD20 for one boat).
14:30-15:30 Visit the Zhang House and walk around on Zhenfeng Cultural Street.
Zhang House is located at the south of the Twin Bridge on Beishi Street. Built between 1436 and 1449 by the offspring of Xu Kui, the brother of Zhongshan King Xu Da, it was sold to the Zhang family in the early Qing Dynasty, after which it was called either Yuyan (Jade Swallow) Hall or House. It has 6 courtyards and more than 70 rooms, covering more than 1800 sq.m.
15:30-17:00 Return to Shanghai and transfer to your hotel.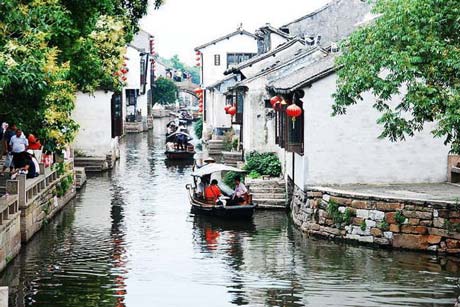 Zhouzhuang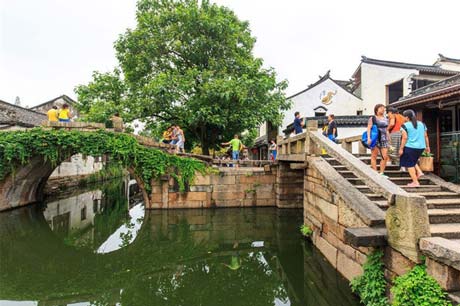 Twin Bridge, Zhouzhuang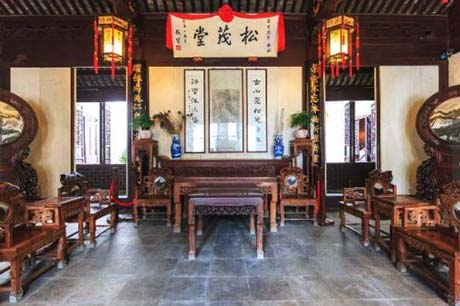 Shen House, Zhouzhuang
Note:
Our tour guide will call you the night before the tour. If you are not in hotel room, we will leave a message in your room, to inform the time to pick you up on the next morning.
The above itinerary is for reference. The specific itinerary may be adjusted. We will make sure you visit all the attractions mentioned.