Lunch
Pick you up from your hotel in Beijing in the early morning and then transfer you to Beijing West Train Station. Upon your arrival at Xi'an, pick you up at the arrival exit and transfer you to a local restaurant for Chinese lunch.
After lunch, first visit the Big Wild Goose Pagoda.
Big Goose Pagoda is one of the oldest structures in China. Originally Big Goose Pagoda consisted of a brick structure of five floors and was about 60 meters high and now it has 7 floors. It is widely renowned that Master Xuanzang (Monk Tripitaka) stored his classics brought from India. It is one of the city's most distinctive and outstanding landmarks, possibly the most beautiful building left in Xian today.
Then move on to the Muslim Quarter and the Great Mosque. Xian Muslim Quarter is just located behind (north of) the Drum Tower. The Xian muslin quarters is a delightful place you mustn't miss! The bazaar in the Muslim area is most attractive with a wide area of stalls selling everything. The streets and walkways are full of life. The shopping is great, very cheap and some unusual items we will seldom see anywhere else in China.
Then visit the Ancient City Wall. The main magnet of Xian is the city wall, which is the most complete city wall that has survived in China, one of the largest ancient military defensive systems in the world. It is an extension of the old Tang Dynasty structure boasting the most complete city wall that survives through Chinese long history. We will stroll along the massive city wall. You can choose to ride a bicycle or take an eco-car along the wall (optional with extra charge).
Transfer you to the hotel after the tour.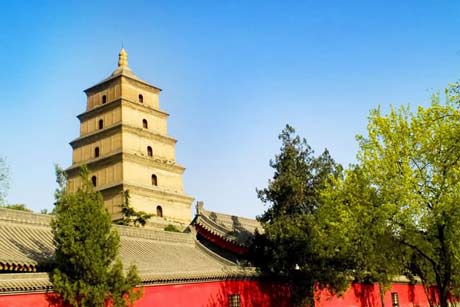 Big Wild Goose Pagoda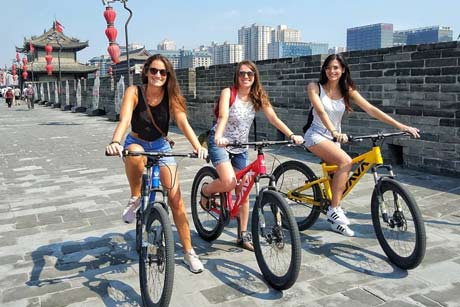 Ancient City Wall