Zhangjiajie National Forest Park is part of Wulingyuan Scenic Area. Entrance ticket is included in the through ticket of Wulingyuan Scenic Area(CNY248). There is a ticket office at the entrance of Zhangjiajie Forest Park. Tourists may buy through ticket here.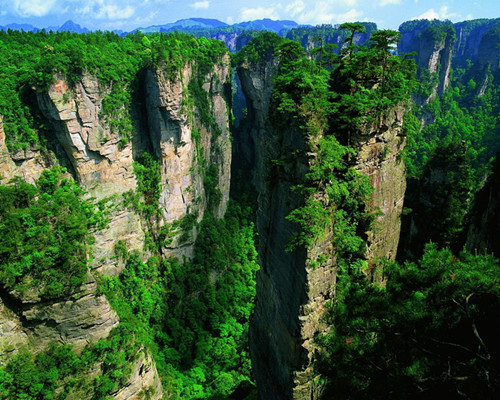 Opening hours: April 1st-October 31st 8:00-18:00
November 1st- March 31st 8:30-17:30
Main attractions of Zhangjiajie Forest Park
Gold Whip Stream, Yellow Stone Village, Pipa Stream, Yaozi Village, Shadao Valley, Yuanjiajie and etc.
How to get Zhangjiajie Forest Park Ticket Office
1.Take a bus at Zhangjiajie Central Bus Station to Forest Park Ticket Office.
It is about 32km away and it takes about 40 min to get to Zhangjiajie National Park.
Ticket fare: CNY11
Departure interval: 10min
2.Taxi
From airport to the scenic site: about CNY100
From train station to the scenic site: about CNY80
No private vehicles are allowed to enter the scenic area. Your vehicle will stop at the ticket office, and then you can take a tourist bus to visit the scenic site.