Li River is the highlight of Guilin tour, and whoever come to this city will be impressed by its natural beauty. The 54-kilometer waterway on the twisty Li River from Zhujiang to Yangshuo covers hundreds and thousands of grotesque peaks. The best way to admire the beauty of Li River is to take a Li River cruise. Li River 4-star cruise ships are more luxurious with better facilities than 3-star cruise.
You need to book the tickets online and redeem the ticket at Zhujiang pier. Then show your passport and ticket to get on board.
4-Star Cruise Ticket Information
Depart from Zhujiang Pier
Arrive at Longtoushan Pier in Yangshuo
Duration: 4~5 hours
Meal: Buffet lunch
How to Collect 4-Star Cruise Tickets?
Make your own way to Zhujiang Pier before 9:00am to redeem your actual cruise ticket at ticket center with your ticket confirmation code. Please arrive at least 45 minutes in advance to redeem your actual boat ticket from the Zhujiang Pier ticket center.
Then bring your cruise ticket and ID (such as passport, mainland travel permit) to Tourist Center for boarding, and your cruise departure time is at 9:00am sharp.
Directions to Departure Location
Zhujiang Pier Location: Lingchuan County, 32 km (20 mi) from downtown Guilin.
Take local taxi to Zhujiang Pier, and the ticket office is in the pier lobby.
You can show the Chinese to the taxi driver.
Please take me to the ticket center of Zhujiang Pier. In Chinese: 你好,请带我去竹江码头的票务大厅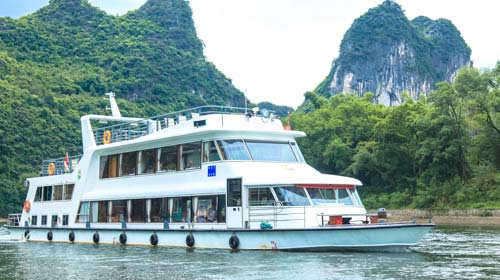 4-Star Ship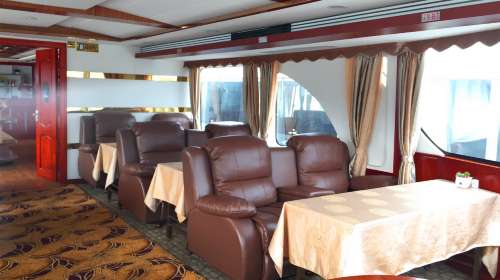 Inside Decoration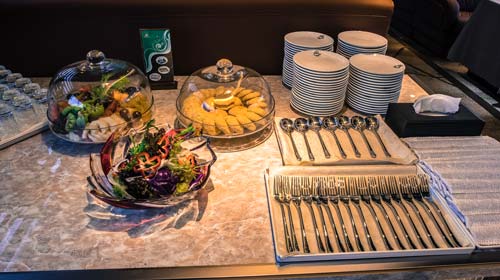 Buffet Lunch
Note:
There are 2 kinds of cruise tickets available. They are 3-star ticket with lunch box and 4-star ticket with buffet lunch. Overall, 4-star cruise ships are more luxurious with better facilities. The cruise routes are exactly the same, however, depart from different piers.
Be sure to take your valid ID, such as the passport with you, because real-name system is used to book the tickets.
The detail of the cruise itinerary, such as the cruise duration, departure and arrival piers and etc. is subject to change due to the weather, water level and other conditions. We will keep you posted is anything changes.