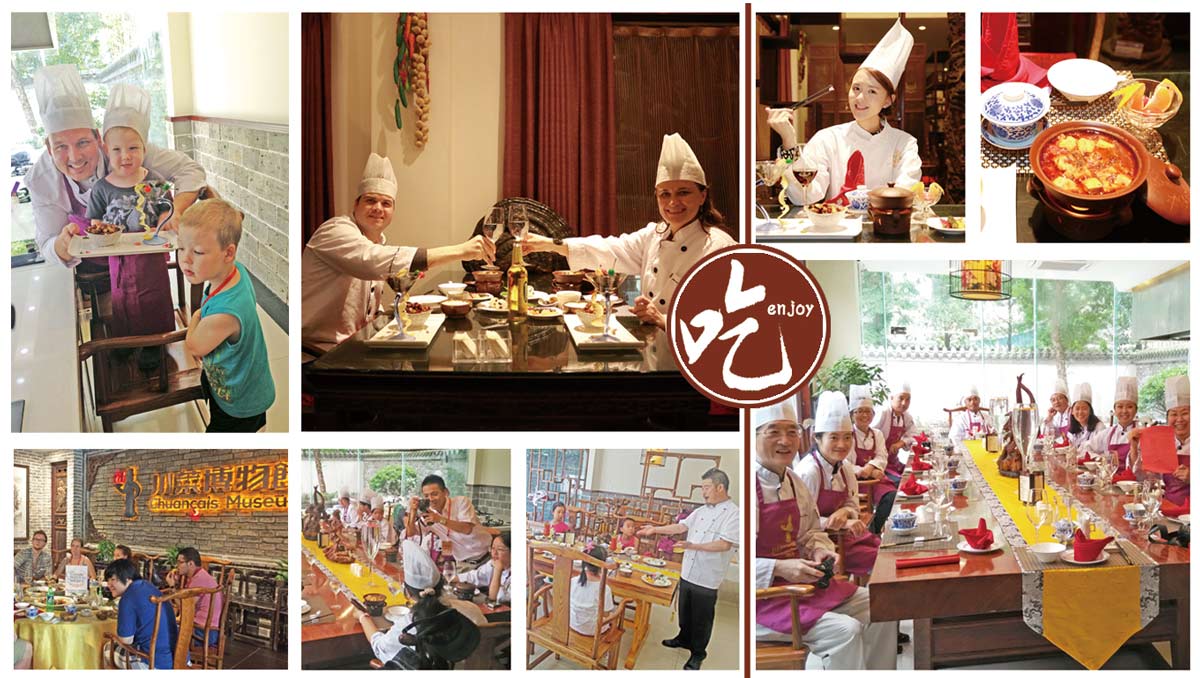 Overviews
Sichuan cuisine museum is the only "eatable museum", it brings a new museum visiting concept —— visiting can not only finished by using eyes and ears, but also enjoy by using mouth and nose, moreover, at this place, visitor's paticipation has become an important part of chuancais' culture.
Activities
7:30 / 11:30
The driver will come to pick you up from your hotel/hostel about 7:30am or 11:30am, then drive about 1.5 hours to Sichuan cuisine museum located at Gucheng village PiXian county of ChengDu.
9:50 / 13:50
Entering the museum, taste the Sichuan style stuffed pancake,northern Sichuan style jelly, Toufu pudding, Zhong's dumpling, Sichuan pickle, Golden thread like noodles, etc.
10:00 / 14:00
With the company of our professional Chuancais guide, learn about the development of Sichuan cuisine history and traditional culture by appreciating more than 6000 pieces of cultural relics, relax yourself in a beautiful classical Sichuan style garden of 27000 square meters.
10:40 / 14:40
Visit the organic vegetable garden and the roaming poultry, feel free to pick some organic vegetables; then, experience the traditional manufacturing techniques of flipping, sunburning and dewing to make Pixian chilly bean paste; taste Xuanzi pea jelly and experience the delicacy of the chilly bean paste.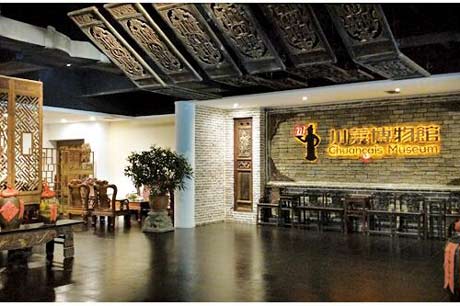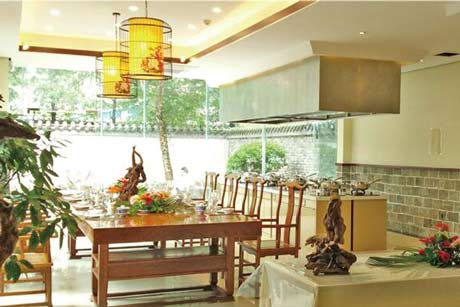 10:55 / 14:55
Respected as the master of all Chinese chefs, the Kitchen God is one of the most important parts of Sichuan traditional folk culture. Sichuan Cuisine Museum has the biggest Kitchen God Ancestral Hall in the world. Worshiping him will remind us to cherish food and to establish harmonious coexistence with the nature.
11:10 / 15:10
Walk through the Street of Old Sichuan Cuisine Restaurants.The Street of Old Sichuan Cuisine Restaurants has the reputation of being the panoramic representation of Sichuan cuisines. You can find famous Chuancais resturants like ChangShengYuan, ZuiXiaXuan, ZhenJiangLou, ZuiTaoCun and so on here in western Sichuan folk house style.
11:15 / 15:15
First you'll get to identify all kinds of food processing tools. Make chili powder with pestle from the Qing Dynasty; experience making bean curd pudding with the grinding machine and taste delicious spicy or sweet bean curd pudding.
Find yourself where the original food processing techniques take place
Savor the delicacy made by yourself
11:30 / 15:30
Put on chef uniform, cooking three Sichuan disheswith the personal guidance of our Chuancais specialist, experience the excitement of Chuancais cooking with the firsthand experience from Chuancai's cutting skills, control of heat, cooking process with some secret tips to presentation. With an enjoyment to the senses of sight, smell, taste and touch, you may reach for the essential features of Chuancai, namely "hundreds of dishes boast hundreds of flavors", "blending of five basic flavors in a variety of ways may create myriads of flavors".
Menus to choose from:
A. Panda steamed dumpling, Kung Pao chicken, Mapo Tofu.
B. Pumpkin steamed dumplings, Daqian dry-braised fish, boiled beef in chili sauce.
12:40 / 16:40
Enjoying the delicious dishes cooked by yourselves, served with free fruits, red wine, alcohol with special pharmacological function brewed with traditional Chinese herbs, beverage, fruit and vegetable juice and covered tea, just to name a few. We will also give out the recipe of the dishes you have cooked and appreciate guests to fill out the feedback forms.
13:40 / 17:40
After all the hard work and excitement, you'll relax and experience the life of a "Chengduer": Sitting in bamboo chairs and sipping tea from a traditional Chinese teacup set in the tea house, you can either have some snacks like peanuts and sun flower seeds or play several rounds of Mahjong, the favorite pastime here, then go back to Chengdu.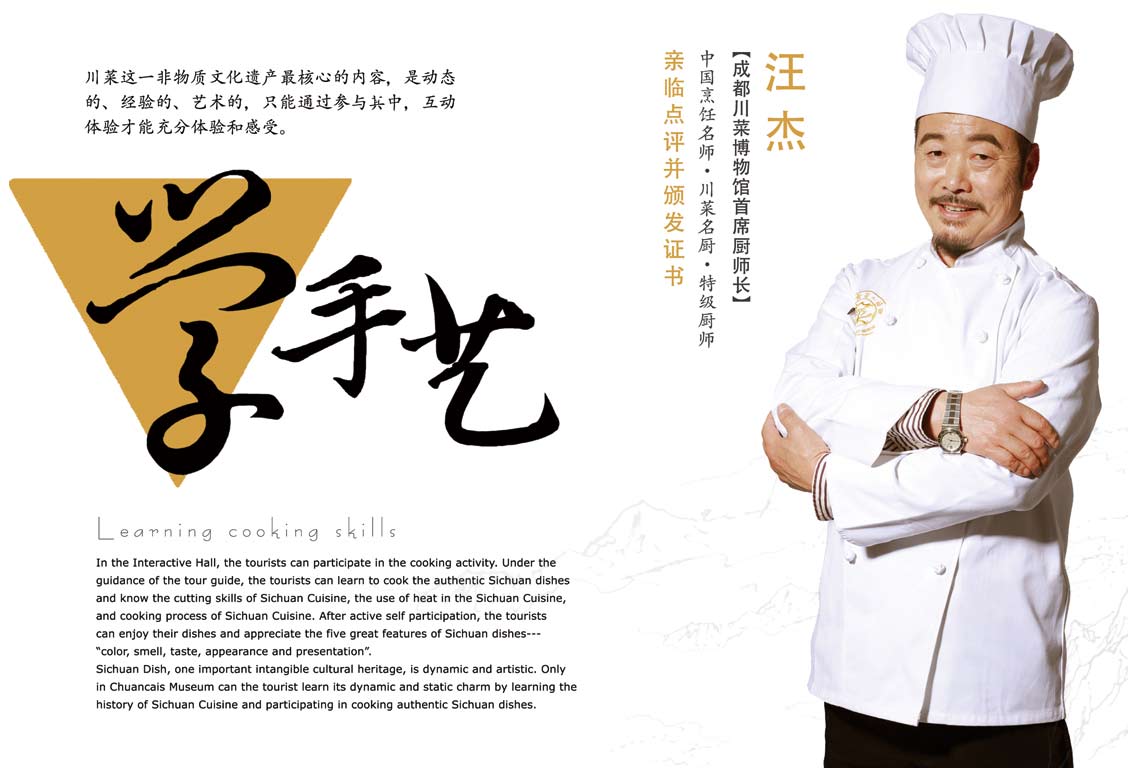 ---
Included
Transfers between Chengdu and Sichuan Cuisine Museum .
English speaking guide ( when group sizes are over 4 pax).
All the cost for the activities listed in the plan,entrance tickets to Sichuan Cuisine Museum, all the visit, one meal with drinks.
Excluded
English speaking guide leading you from Chengdu to Sichuan Cuisine Museum
---