Erhai Lake is located near Dali Ancient Town. It is the second largest fresh water lake in Yunnan. The name "Erhai" literally means "lake shaped like an ear".
The Erhai Lake is located in the Dali Autonomous Prefecture of Yunnan Province. Since it has a shape of an ear, it gets the name Erhai (Ear Lake). It stretches 42 kilometers from north to south and 3.9 kilometers from east to west. The lake covers an area of more than 250 square kilometers and is 21.5 meters at the deepest. It is ranked the second place in Yunnan Province and the seventh freshwater lake in the nation by area and water storage.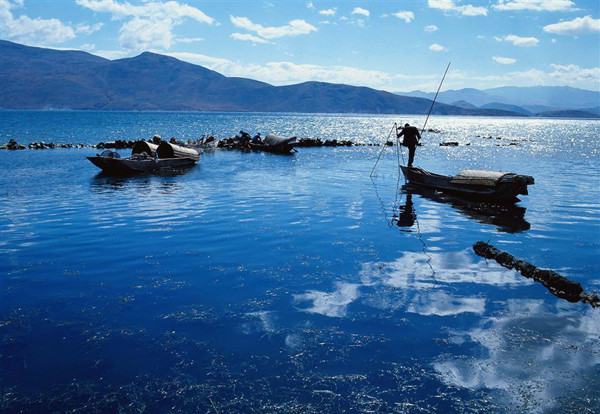 The surrounding islands, temples and villages are worth visiting too. Golden Shuttle Island (Jinsuo Dao), and the nearby fishing community of Bai Minority do really deserve a visit with its attractive Bai culture and lifestyle, and because of the rare beauty of the lake and its surrounding scenery. The most unforgettable Xiaoputuo Dao, originally devoted to Bodhisattva Kwan-yin, can be traced back to the 15th century. Though tiny and called xiao (which means small in Chinese), one can still experience and see the typical ancient Chinese Buddhist temple's unique architectural styles of its buildings' pointed eaves and decorations on this peninsular.
Cangshan Mountain, two km west of Dali, form the backdrop for Dali City. Together with Erhai Lake, the imposing mountain range makes Dali a true vacation getaway. The stunningly beautiful mountainboasts high snow capped peaks, shifting clouds, and babbling streams. With an average height of 4000 m, it has a cluster of 19 soaring peaks. The highest peak, Malong, spires 4,122 m high. On Shengying peak, there is a huge chess board covering 460 square metres! Streams trickle down between every two peaks. With thick forest and vegetation, the mountain also boasts a botanical garden and a zoo.