Honghe Hani Rice Terraces
Honghe Hani Rice Terraces is a masterpiece of man-made work combined with nature. The history of Hani people using a terrace field for farming can dates back to over one thousand years ago. The field we see now is the work of several generations. There are three major scenic spots in the area, which are Duoyi Tree, Bada and Tiger Mouth. It costs CNY 100 for a through ticket including these three scenic areas. It is recommended to stay overnight in Xinjiezhen(新街镇) or hotels near the scenic area. Book a Yuanyang Tour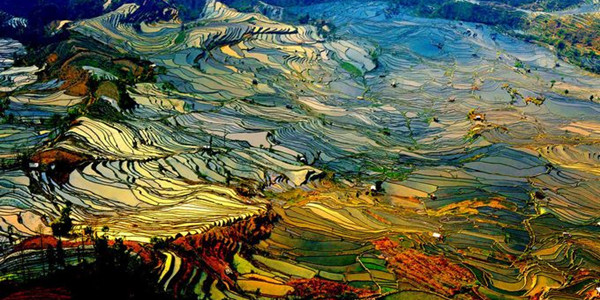 The terraces present different views in different seasons. From November to March, the terrace fields will be filled with water. When the sunlight shines on the water, the terrace will be very beautiful. From April to September, there will be green paddy rice all over the field. In late September and early October, the rice fields ripe and turn yellow.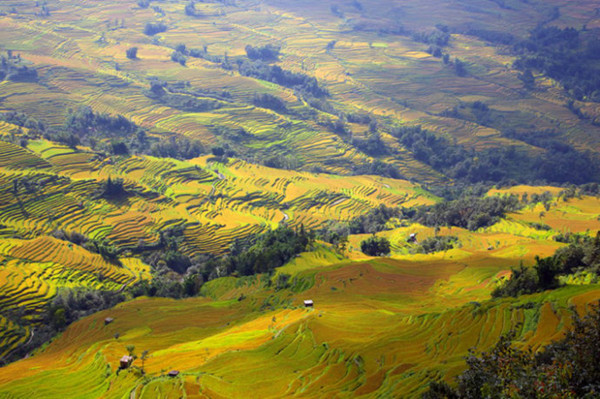 A terraced field is a piece of sloped plane that has been cut into a series of successively receding flat surfaces or platforms, which resemble steps, for the purposes of more effective farming. It is a typical landscape in South China. Some of them have been developed as tourist sites. People whoever have visited the terrace are impressed by its unique and magnificent landscape.
Yuanyang is located on the Tropic of Cancer. The climate is good. The average temperature is 16.4℃ and it varies greatly between day and night. The sunlight is strong at noon. For tourists who visit Yuanyang in January and February, it is advised to prepare some warm clothes.
There are 4 major scenic spots in the area. They are Duoyi Tree, Bada, Tiger Mouth and Jingkou Village. They scatter in the different places of Yuanyang. CNY 100 for a through ticket valid for 1 day, CNY180 valid for 10 days and CNY360 valid for 1 year. It's not convenient to travel between the scenic spots. So it's best to rent a car to visit these scenic spots, which is more flexible and easy to drop by to take photos. It is recommended to watch the sunrise in Duoyi Tree and watch the sunset at Tiger Mouth. Cloud sea often occur in Bada Scenic Spot. Jingkou Village is well-preserved Hani Village, where tourists could experience local culture. There are also many other terraces worth visiting and no entrance fee required, such as Longshuba and Habo Village.
There is no train or flight available in Yuanyang. It is best to take a Long-distance bus from Kunming to Yuanyang or first take a train to Jianshui and then take a bus from Jianshui to Yuanyang.Book a Train Ticket
The official website of Kunming Bus Station is www.4006510871.cn/ticket/home(Chinese). Tourist may book bus tickets from Kunming to Yuanyang or other cities in Yunnan.