Lunch box offered by the cruise company
Meet your tour guide at hotel lobby at the appointed time in the morning. Your tour guide will call you or leave a message the night before your tour to confirm pick-up time (usually around 8:00 am). Remember to bring your passport with you.
It takes about 1 hour to drive to Li River pier (Mopanshan pier) from downtown. The boarding time is scheduled at 9:30 am, and the whole journey takes about 4 hours. Embark and enjoy your Li River cruise to Yangshuo.
Li River is the highlight of Guilin tour, and whoever come to this city will be impressed by its natural beauty. The 54-kilometer waterway on the twisty Li River from Zhujiang to Yangshuo covers hundreds and thousands of grotesque peaks. The landscape is decorated with rolling hills, steep cliffs, fantastic caves, leisurely boats and is lined with bamboo. The water reflect the mountain and the sky, forming a picturesque scenery. Wonderful appreciation of a stirring "Movement of Mother Nature" !
A Chinese lunch box is offered on board by the cruise company.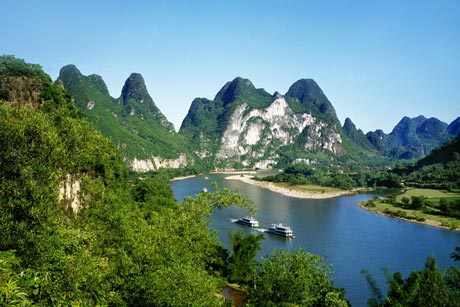 Li River Landscape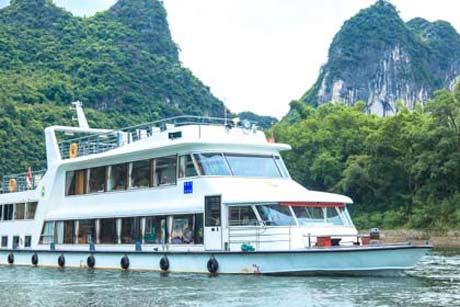 Li River Cruise
Disembark at Yangshuo (Longtoushan pier) in the afternoon (1:30-2:00pm). Yangshuo, an ancient town with a history of over 1400 years, is the most beautiful town along the Li River. At the village of Gaotian to the south of Yangshuo, the fascinating pastoral scenery comes in sight. Yangshuo West Street is a place where you will find a lot of unique shops selling traditional handcrafts, hand-made scarfs, snacks of local flavor etc. It is quite fun to explore these small shops even if you don't buy anything. Have a short exploration of the old town before being transferred back to your hotel in Guilin.
You can also take an optional Bamboo Rafting on Yulong River to enjoy the beautiful scenery along the river.
Cycling around the countryside is also quite fun. Ask the tour guide to rent a bicycle for you.
The details of itinerary, such as the cruise duration, departure and arrival piers and etc. are subject to change by the cruise company due to the weather, water level and other conditions.
Optional Activities
Bamboo Rafting in Yangshuo Yulong River
Liusanjie Impression Night Show      Seat Map of the Show
Xianggong Hill - A famous photographic spot with breathtaking views. You will have a bird's eye view of the unique karst landscape of Guilin scenery.
Upgrade to 4-star Cruise Ship - We arrange 3-star cruise ship for this tour, which is popular and cost effective. If you look forward to a better experience with more spacious room, well-furnished cabin and a buffet lunch, we recommend you to upgrade to 4-star cruise ship. Just tick the optional activity when you make the booking
Note: All the optional activities are not available for group tours. Please take private tours if you would like to enjoy the optional activities.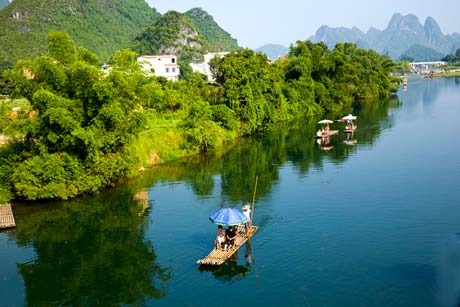 Yulong River Bamboo Rafting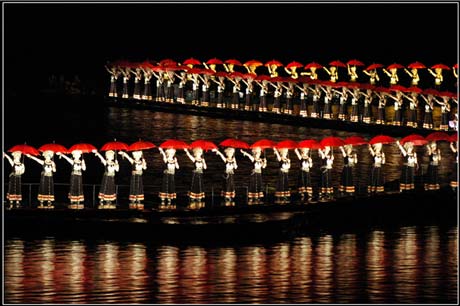 Impression Liusanjie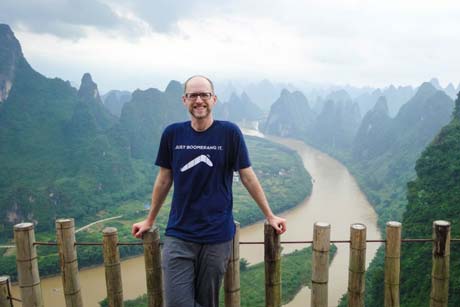 Bird-eye View from Xianggong Hill