Like a green belt running though Guilin, Li River is an indispensable part of Guilin. Originaing in Mao'er Mountain in Xin'an county northeast of Guilin, the Li River winds its way southeast for about 437 km, passing through Guilin, Yangshuo, Pingle, Zhaoping and finally meets Xi River in Wulin. It boasts the largest and most beautiful scenic area in China and attracts thousands of visitors each year. Li River is the icon of the city and whoever come to this city will be impressed by its natural beauty. Book a Li River Cruise Tour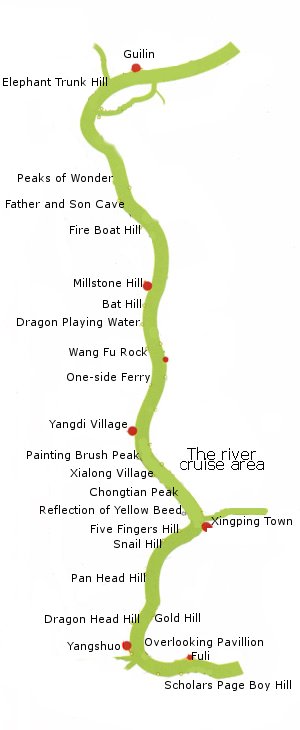 The 83-km-long waterway from Guilin to Yangshuo is like an artists's masterpiece. The landscape is decorated with rolling hills, steep cliffs, fantastic caves, leisurely boats and is lined with bamboo. A poem says: "The river is a green silk ribbon, and the hills are jade hair-pins". Along the cruise, there is an attraction called Huangbutan, literally means Yellow Cloth Shoal. There is a yellow stone slate under the water. This is where its name come from. The water reflect the mountain and the sky, forming a picturesque scenery.
Mostly the cruise starts from Mopanshan and Zhujiang Wharf. It is about 40 minutes drive from Guilin city. and then 4 to 5 hours cruise will take you to a beautiful and sedate ancient city – Yangshuo. Usually the 3-star cruise starts from Mopanshan pier and the 4-star cruise starts from Zhujiang pier.
The famous show Impression Liusanjie is cast in Yangshuo along the riverside of Li River. Impression Liusanjie is an show based on a true story about Liusanjie, using the natural landscape of Guilin as a backdrop, performed by local residents. The show is directed by Yimou Zhang, who is a famous film director in China. It took Yimou Zhang and his group several years to accomplish the project. Now it has become a must-see show for whoever come to Yangshuo. >>more
Various ways are available to appreciate the beauty of it.
Walk along the river
Cycling along the river
Cruise on the river
by ship
by bamboo raft