Impression Liusanjie is an show based on a true story about Liusanjie, using the natural landscape of Guilin as a backdrop, performed by local residents. The show is directed by Yimou Zhang, who is a famous film director in China. It took Yimou Zhang and his group several years to accomplish the project. Now it has become a must-see show for whoever come to Yangshuo.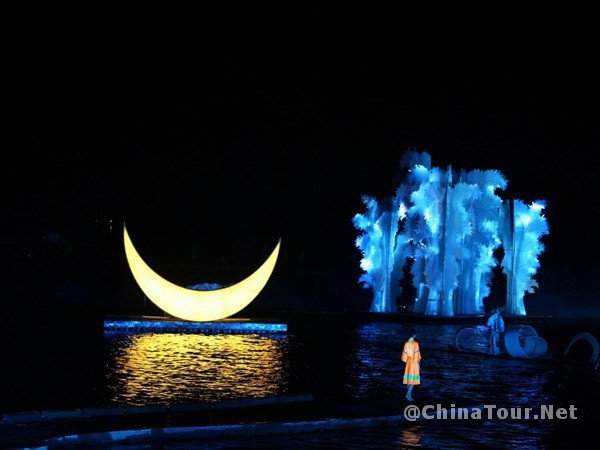 The performance regards the lmpression Sanjie Liu as the general theme, and creatively combines the classical Sanjie Liu's Songs, ethnic groups'Culture and the fishing lights together, to reflect the harmonious atmosphere between human beings and the nature. The performance lasts for 70 minutes and 600 plus actors and actress are involved.
China Lijiang Landscape Theater is located at the junction of the Li River and Tianjiahe River, facing the well-known shutong hill across the water. As audience of this theater , you can enjoy the performance (impression Sanjie Liu) in the stage stretched 2 kilometers long in the Li River with its degree angle-view. All lights and sound systems in the theater are designed by covert means, integrating with the nature. There are more than 2600 audience seats, among them, 2500 are ordinary seats, 100 are disguished guests, and 35 are vip seats.
Shanshui Theater
Address:No.1 Tian Yuan Road ,Yangshuo County, Guilin City. Guangxi Province.