Merryland Theme Park, located in the suburbs of Guilin City, combines the fun and excitement of a theme park, with a state of the art golf resort and hotel. The theme park occupies an area of over 988 acres. Merryland Theme Park is fun for all ages, and has something for everyone. The park has many themed areas. Each themed area's architecture, employees' costuming, shows, and food are designed to match their respective areas.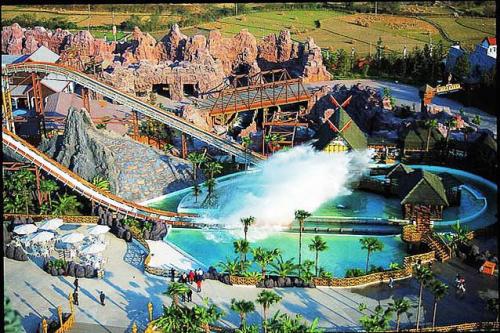 South Pacific: Tropical plants, bamboo, thatch houses, are found throughout the South Pacific area of this tropical themed area. The shows and rides in this section are all themed after the South Pacific.
Happy China Town: This fun themed area brings China's past to life. Stroll through ancient China and mingle with the locals in this ancient China themed area. There are many Chinese themed attractions in this area.
Dream World: In this magical place, you can see fairy tales come to life. This themed area has a lot of different fairy tale themed rides and shows.
Pirate Village: Hang out with buccaneers of the Spanish Main in this pirate infested village. All of the rides and shows in this section are pirate themed.
The Wild West: See what life was like in the American West when cowboys worked the plains. The Wild West show is particularly popular with visitors.
European Section: Stroll through a recreation of the 12th and 13th centuries in Europe. Gothic architecture surrounds you in this magical area.