Yulong River is a tributary of Li River in Yangshuo. Yulong, literally means Meeting the Dragon. Compared with the amazing landscape of Li River, Yulong River is more restful and casual. You will see villages and farming lands along the riverside. Taking a bamboo raft along the river is quite a unique experience. Taking a breath of the fresh air, with the hills and farms passing by, tourists may feel that all the troubles and worries are going away.
In the ancient time, Yulong River was called "Peaceful Water", but because of the famous Yulong Bridge" its name was changed into Yulong River. The river originates from Bainian Mountain in Lingui County, through Jinbao Village, Grape Town, Baisha Town, New Yangshuo Town and Gaotian Village, and finally meets Jinbao River at Qinge crossing and altogether flows into Tianjia River. The Yulong River is as long as 43.5 miles, with the width from 38 to 61 meters and depth from 0.5 to 0.9 meters. The river is not open to navigation for there is dam on the river for irrigation.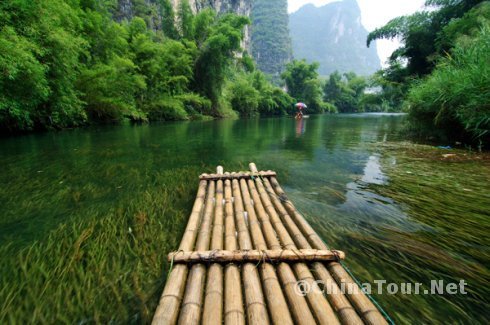 The whole journey of the rafting begins from Jinlong Bridge and finishes at Gongnong Bridge. It takes about 5 hours. The whole journey can be divided into two halves. The first half is from Jinlong Bridge to Jiu County; the second half is from Chaoyang Port to Nonggong Bridge. It takes about 2-3 hours for each half. Every bamboo raft can only take 2 passengers.