Longji Terraced Field is one of the most famous terraced fields in China. It is located at Longsheng County in Guilin. A terrace is a piece of sloped plane that has been cut into a series of successively receding flat surfaces or platforms, which resemble steps, for the purposes of more effective farming. Book a Longji Tour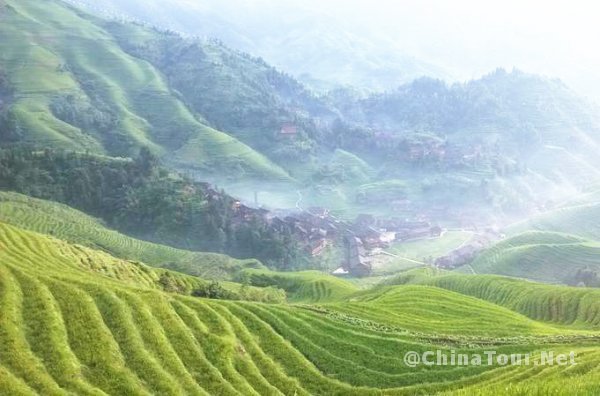 Longji Terraced Field is located in Longsheng County in Guilin. It is a large area of rice fields on the mountain. Longji, literally means Dragon's Backbone, is one of highlights in Guilin.
Longji Terraced Fields are comprised of three main tourist areas. They are Dazhai Jinkeng Terrace, Ping'an Terrace and Longji Village. Ping'an Terrace is the most popular destination among group tours. It is easier to reach and a one day return is available. However, the most magnificent terrace is Jinkeng Terrace. It takes more time to hike on the terrace. Therefore, tourists usually stay overnight in the village.
There are three main scenic spots in Jinkeng Terrace.Scenic spot No.1 is a perfect place for watching sunrise and Scenic spot No.2 is better for sunest.
The terrace takes on different apprearance in different seasons. In May, the terrace will be filled with water. It is the best time to go sightseeing.
There are three main scenic areas in Longji. They are Jinkeng Terrace, Ping'an Terrace and Longji Village.
If you just want a one day tour of the terrace, it is suggested that you go to Ping'an Terrace. Tourists may go to Longji in the morning from Guilin downtown and then go back to the downtown after the tour. There are two main scenic spots in Ping'an Terrace, which are called Seven-star around the Moon and Nine Dragons and Five Tigers. However, Jinkeng Terrace is the most magnificent part of Longji Terraced Fields. It takes more time to get there and more effort to climb up the hills. Just one day will not be enough to cover the scenic spots. It is better for tourists to stay overnight. And the next morning you can see the sunrise among the terraced field. You will be impressed by the amazing landscape.