Sliver Cave is a typical karst cave and there are many different types of stalactite presenting vivid shapes of peacock, waterfall, umbrella etc.
Silver Cave is located in Lipu County, which is 85km away from Guilin downtown and 18km from Yangshuo.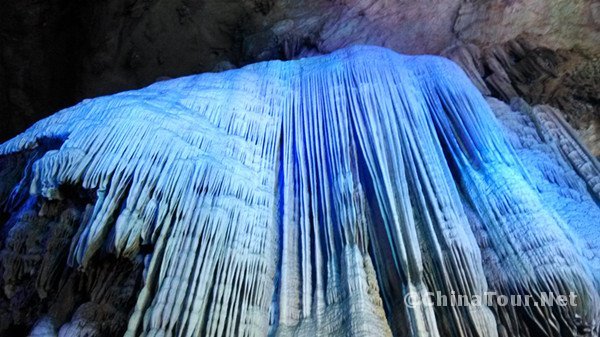 There is a famous saying that He who has been to Silver Cave will never be short of money. The famous scenic spots are Snow-mountain with Waterfall, Music Stone Screen, Jade Pool Wonderland etc.
Silver Cave has a very impressive underground network of caves with amazing stalactites and stalagmites. Access is good being mostly on prepared paths. That said, there are rough sections and sections that are frequently wet, so we should say that this site is suitable for most – but not all.
Most of the formations have been given a name like 'the vegetable garden' and 'the umbrella' to help you imagine what they look like. No local guides speak English for now so if you want more information it is best to take a guide from Yangshuo.
There are coloured fluorescent lights to highlight the formations. This isn't to everyone's taste but does make these caves an ideal venue for families and groups with children. See above comments on access – pushchairs are not advisable.
Ticket Price:CNY90
Opening hours:8:30-17:30
Visiting time: 1-1.5h