Reed Flute Cave is a very popular karst cave in Guilin. The cave is famous for its different shapes of the stalactite. Many famous celebrities from both home and abroad have been to the cave. It is situated in the highway of the Guangming Hill, in the northwestern suburbs of the city. The cave got its name from a kind of flutes growing outside which can be made into melodious flutes. The cave is filled with a large number of stalactites, stalagmites, rocks in all strange shapes. With the light on, the stalactite looks really beautiful. It looks like a fairy land. To visit the cave, you need to use your imagination to relate the stalactite to the real objects. The Reed Flute Cave is absolutely a must-see attraction. Book a Tour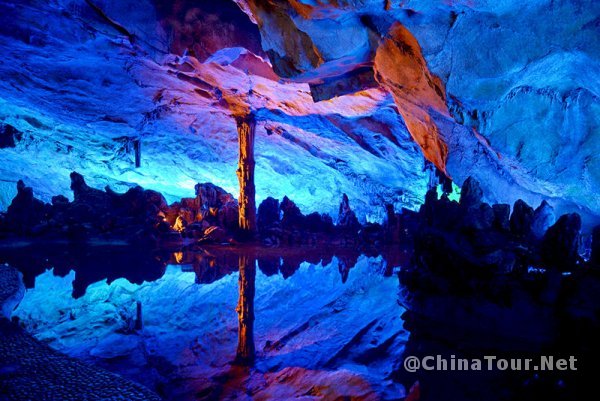 The cave is about 240 meters long and a trip last about one hour. Along the u-shaped route, visitors can see those oddly shaped rocks, stone pillars and your guide will give you interesting story about them. Illuminated by the colored lights, the cave looks like a dazzling palace that's why the cave is otherwise known as the Art Palace of the Nature.
Inside the cave there are more than 70 inscription written in ink, which can dating back to 792 AD during the Tang Dynasty, over one thousand years ago. These aged marks tell that it have been an attraction in ancient time.
Since the cave opened to the public in 1962, millions of tourists have visited it. Now the cave is one of the main tourist draws in the area, just under the famous Li River.
Ticket price: CNY90
Opening hours: 8:00-17:30
How to get there: No.3 Bus