Pick you up from your hotel at about 8:30, and arrive at Longji Terraced Field at about 11:00.Located in Longsheng County,
Longji Terraced Field
is famous for the beauty of rice field and the colorful ethnic cultures and customs. Longji Terraces were first built in the Yuan Dynasty (about 800 years ago) and completed in the Qing Dynasty. The area is home to two different Chinese ethnic minorities, the Zhuang and the Yao people. These people have been cultivating rice in the Longsheng mountains for centuries. The terraced fields with the highest place of an elevation of 885m and the lowest 380m are built along the slope winding from the riverside up to the mountaintop. You will have access to a maze of hiking trails through the rice terraces full of incredible overlooks and views.
For private tour, you will visit one of the three parts of Longji Terrace, Ping'an Terrace, Jinkeng Dazhai Terrace or Guzhuang Terrace.
For group tour, you will visit Jinkeng Dazhai Terrace.
Fun fact is that the women here have some of the longest hair in the world! It's a tradition that girls cut their hair only once in their life when they turn 18. Most of the local women you'll meet at the rice terraces have hair that's over 1 meter long! You may have a chance to see the local Huangluo Yao Minority Women's Long Hair Show (optional) before being transferred back to your hotel in Guilin at about 18:00.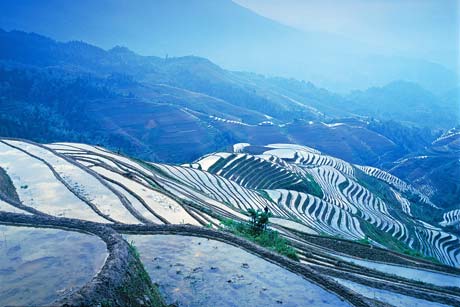 Longji Terrace filled with water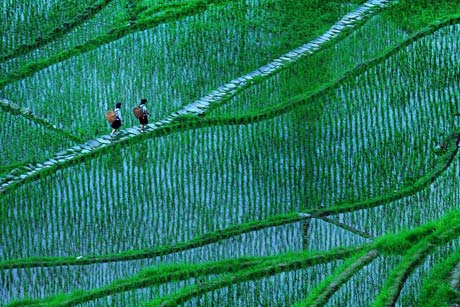 Longji Terrace