Pick up from your hotel in downtown Shanghai in the morning at about 8:00am. Then drive to Tongli Water Town. You will visit the scenic spots in Tongli, such as Tuisi Garden, Jiayin Hall, Chongben Hall, Gengle Hall, Pearl Pagoda, Three Bridges, Narrow Lane and etc.
Have lunch and have a taste of local flavour. After lunch, continue to visit the other scenic spots. Transfer back to your hotel in Shanghai at about 5:00pm. If the traffic is bad, the itinerary may be modified accordingly.
Tuisi Garden, built from the 11th to the 13th year of Guangxu Period of Qing Dynasty, is a masterful display of garden-building techniques. Ren Lansheng, master of the garden, was once an officer. After being sued and removed from office, he built this garden and named it "Tuisiyuan", which in Chinese means "retreating and reflecting on one's faults".
The Pearl Tower tells a tale of Tongli's ancient past, a fascinating story of a man named Fang who through various trials and tribulations eventually received the tower. Riddled with old relics, the structure exudes classical Suzhou architectural flair and overlooks traditional gardens.
The Three Bridges, namely Taiping Bridge, Jili Bridge and Changqing Bridge. The people in Tongli regard the bridge as a symbol of good luck and happiness, and believe thay dispel calamity and difficulties. The highlight of the tour is that you will take a boat ride along the waterway in the town. Transfer back to the hotel after the tour.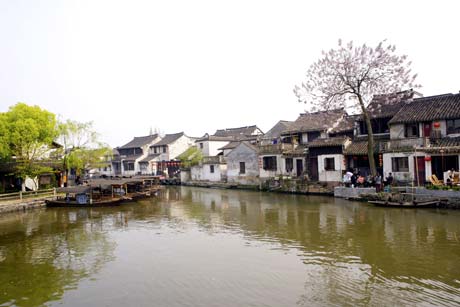 Tongli Ancient Town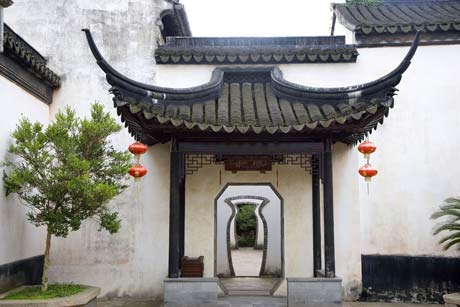 Tongli Ancient Town
About Tongli
Tongli, formerly known as Futu, changed its name as "Tongli" in early Tang Dynasty due to its luxuriousness. The town is divided into 7 small islands by 15 rivers arranged like the Chinese character "川" connected by 49 ancient bridges, making these islands an integrated area. The architectures built by riverside, famous for "small bridge, flowing stream and thatched households", make Tongli ancient town the best reserved ancient town by riverside as well as the key cultural relic protection unit of province level.