Zhouzhuang Water Town and Suzhou City Tour
Route: Hotel - Net Master Garden - Panmen Ancient City Wall& Grand Canal - Lunch - Silk Mill - Zhouzhuang Water Town - Boat Ride Excursion (private) - Back
Lunch
Entitled as the "Garden City" or "Oriental Venice", one day Suzhou and Zhouzhuang tour are the best way to appreciate these two picturesque water towns.
Pick up from hotel in downtown Shanghai in the morning and drive to Suzhou. First of all, visit the Net Master Garden, which is the famous garden survived from the Song Dynasty, the Metropolitan Museum in New York even made a copy of this garden named "Ming Xuan". Afterwards continue to visit Panmen Ancient City Wall and Grand Canal. The Panmen Ancient Wall was built in 514 BC, which is more than 2500 years ago. The Grand Canal from Beijing to Hangzhou is the longest and oldest canal in the world. It helped a lot with the development of economy and culture and communication between south China and north China which is as famous as the Great Wall. After lunch stop by the silk mill where you can learn the whole process of silk breeding to cocoon weaving.
In the aftenoon, drive to Zhouzhuang, which is well known for its peaceful environment and old architectures. Take a boat ride along the waterway(group tour need to purchase on your own), which is the most relaxing way to experience this water village. Meanwhile, if you are lucky enough, you can also ask the boat women to sing some local songs, but of course don't forget to offer some gratitude. Transfer back after the tour.
Note:
For group tour, the boat ride is not included. You need to purchase on your own. For private tour, the boat ride in Zhouzhuang is included.
We will contact you in the evening before the tour to confirm the pick-up time on the next day. If we cannot get in touch with you, we will leave you a message through the hotel.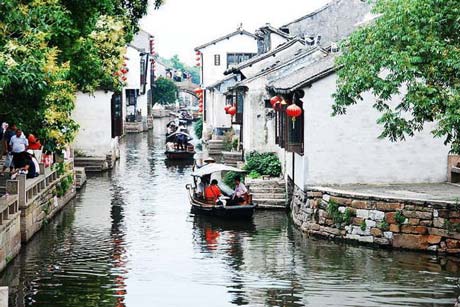 Zhouzhuang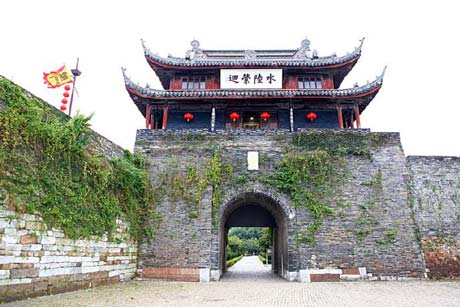 Panmen Ancient Walls