Tiger Hill, known also as Surging Sea Hill, is a large hillock, standing 36 meters high and covering an area of some 14,100 square meters. Going up to the hill, you will find a number of historical sites, including some from 2,500 years ago, which are as old as the city of Suzhou.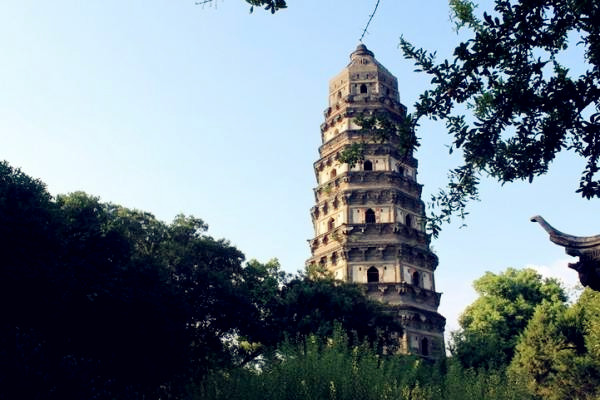 The Tomb of King He Lu
In 496 BC, during the Spring and Autumn Period (770-476 BC), He Lu, King of the Wu State died in battles against Yue, the neighbor state. His son buried him in the hill and three days after the funeral, a white tiger came and sat upon the grave, seeming to be a guard. From then on, the place has been known as Tiger Hill.
Tiger Hill Pagoda
The pagoda standing on the hill's summit is part of the Yunyan Temple. The oldest pagoda in Suzhou, it serves as a landmark of the city. Built during the Northern Song Dynasty (959-961), the 48-meter-high seven-story octahedron has leant towards the northwest in the past 400 years.
Sword Testing Stone and Sword Pool

King He Lu was a zealous collector of rare swords and it is said that he tested them upon this stone, leaving the crevice on the rock. As for his swords, it is believed that they were buried beneath the Sword Pool as funerary objects. Another mystery is the whereabouts of the remains of the 1,000 tomb builders who were killed upon the completion of the project.
Lu Yu Well
Lu Yu was a master of tea art who wrote the first book on this subject, The Treatise of Tea. Lu lived on Tiger Hill when he wrote the final part of his book. He excavated the well and declared that the water from it was the third best in China. Owing to Lu's research and teaching, tea growing and consuming has become an important part of the Suzhou people.
Yongcui Shanzhuang (Verdant Mountain Villa)
Built in the 10th year of the reign of Emperor Guangxu of the Qing Dynasty (1644-1911), the villa is a masterpiece of classic Suzhou garden. The architect's smart design made the villa a natural vista for views of the surrounding landscapes. From any hall or porch, one can get a pleasant sight.
Wanjing Villa: The ancient art of bonsai growing is exhibited in this villa with thousands of mini plants on display. Many of them are award winners of prestigious bonsai competitions. The miniature replicas of full-size gardens always give visitors surprising pleasure.