Xian is not a city of historic attractions but also a city full of delicious cuisine and snacks. There are many local food that tourists should not miss.
Jiaozi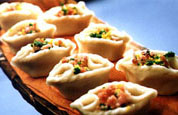 Xi'an is famous for its jiaozi, a sort of dumpling.  Jiaozi is a kind of newly created well-known feast of local flavor on the basis of the traditional dumpling recipe.  It's a beautiful version of Ravioli with different ingredients like chicken, seafood, vegetables or various kind of meats.  It is indeed a mixed combination of good-looking, good smelling and delicate good taste – sweet and rich in nutrition.
If you're hungry, go for it in the famous restaurant at Jiefang Road.  Also you could try the food stalls located at Dong Shi Er Dao Xiang, the 12th Lane East.
Baked Bun Soaked in Mutton Soup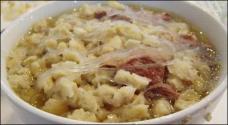 The most famous folk foodstuff of Xi'an is Baked Bun Soaked in Mutton Soup.  Particularly a restaurateur will first offer the kind of hard dried pancake and you will break the pancake into small pieces, then give it back to the restaurateur for cooking the shredded pancake with mutton in delicious soup.  The finished dish which is steaming hot will only motivate your appetite with an unusual sweet smell.
Qishan's Saozi Noodles with Minced Meat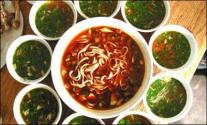 As early as in the Qing Dynasty, Qishan's saozi noodles of ShaanxiProvince were famous for a spicy, sour and delicious taste, thin noodles and a good smell. Such noodles are prepared with high-quality flour, pork, eggs, day lilies and edible funguses, in addition to a wide variety of seasonings.
Lao Tong's Cured Mutton
A well-known snack in Xi'an City, cured mutton is prepared with selected meat stuff, the cooking artistic means and the subsidiary seasoning ingredients, so the cured mutton is ready and delicious.  The mutton stewed in soy sauce looks bright and lustrous, tastes crisp and delicious.
The Chang'an Gourd Chicken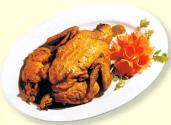 One of Xi'an's traditional local flavor, the Gourd Chicken's characteristics lie in its golden rich color, crisp skin, tender meat, good smell and soft through cooking.  This dish is rich in protein and with saturated fatty acid necessary for your body.
Xi'an Huis (Muslim) Food Street
Situated at the north of Middle Section of West Street at Da Mai Market Street, Xi'an Huis (Muslim) Food Street is a place of the Huis (Muslim) exquisite food and drink with a long history, a number of food of various descriptions and strong national flavors in ancient Xi'an city.