Xian Xianyang International Airport is located about 30 kilometers away from the downtown. Both international flights and domestic flights are available. There are international flights between Xi'an and Seattle, Helsinki, Seoul, Toyko, Singapore, Bangkok and so on. Domestic flights are available between Xian and most major cities in China. Therefore, it is quite convenient to travel to Xian by air.Book a Flight Ticket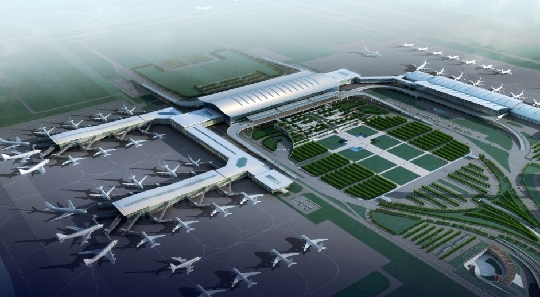 There are airport buses and taxis available between the airport and the downtown.
Airport bus
The location of the ticket offices
Terminal 2: Passenger Service Center (next to Exit 2)
Terminal 3: Located in the Arrival Hall and in the Ground Transportation Center (GTC)
There are 8 bus lines available. The destinations are Xi Shao Men, Railway Station, Hi-Tech Development Zone, Jianguo Hotel, Xianyang Rainbow Hotel, Xian Hotel, Xian South Intercity Bus Station and North Railway Station. The running hours is different according to different bus lines. The ticket fare ranges from CNY16 to CNY26.
Taxi
Location of Taxi Stands:
Terminal 2: After leaving the baggage claim area, please proceed to Exit 2 and make your way across to the taxi station. Terminal 3: After leaving the baggage claim area,please proceed to Exit 314 and make your way to the Ground Transportation Center (GTC). Then cut across the hall and leave the building through Exits G08 or G09 to arrive at the taxi stands.
For more information, please refer to the official website of Xi'an Xianyang Airport.